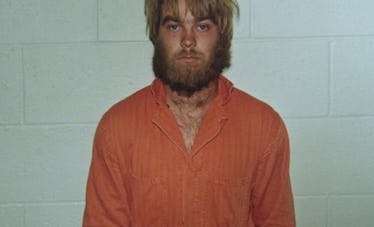 Here's What Fans Need To Remember About 'Making A Murderer' Season 1
Netflix
Netflix announced Tuesday, Sept. 25 that the anticipated Season 2 of Making a Murderer will hit the streaming giant on Oct. 19. The engrossing docuseries captivated the world through its 10-episode exploration of the case of Wisconsin man Steven Avery, who spent years in prison before being exonerated. Not long after his release, he found himself on trial for murder or Teresa Halbach alongside his nephew and co-defendant, Brendan Dassey. Both Avery and Dassey have denied they were responsible for Halbach's murder. Before viewers tune into Making a Murderer Season 2, they might be trying to remember: How did Making a Murderer Season 1 end? The true crime phenomenon's conclusion got people talking.
What happened in Season 1?
Filmmakers Laura Ricciardi and Moira Demos spent 10 years documenting Steven Avery's journey for Making a Murderer. After serving 18 years for the 1985 rape and assault of a Manitowoc County, Wisconsin woman named Penny Beernsten, Avery was exonerated based on DNA evidence that proved his innocence and filed a multi-million dollar suit against the county for his wrongful conviction. Just two years after his 2003 prison release, Avery went on trial for the murder of 25-year-old local photographer Teresa Halbach. Her last known whereabouts were reportedly on the Avery property. Avery maintains he was not responsible for Halbach's murder. Avery was convicted of her murder in 2007 and still maintains his innocence to this day. He is currently serving a life sentence for the crime. Making a Murderer chronicles — and is critical of — the investigation and his trial, dives deep into Avery and his family and significant others' point of view, and presents theories and details that question his conviction.
Who is Brenden Dassey?
Brendan Dassey is Steven Avery's nephew. At 16, Dassey confessed to being Avery's co-conspiritor in the Halbach murder, and his lengthy interrogation is documented in Making a Murderer. Dassey was convicted in 2007 of being party to first-degree intentional homicide, mutilation of a corpse, and first-degree sexual assault. He was sentenced to life in prison with eligibility for parole in 2048. Since being convicted, Dassey has claimed he did not play a part in Halbach's murder. Brendan's conviction was overturned in 2016, although an appeals court upheld the conviction and his prison release was denied.
"His confession was not voluntary and his conviction should not stand, and yet an impaired teenager has been sentenced to life in prison," dissenting Judge Ilana Diamond Rovner said of the decision. "I view this as a profound miscarriage of justice."
What's Season 2 About?
"Steven and Brendan, their families and their legal and investigative teams have once again graciously granted us access, giving us a window into the complex web of American criminal justice," filmmakers Laura Ricciardi and Moira Demos said in a joint statement regarding Season 2, via The Hollywood Reporter. "Building on Part 1, which documented the experience of the accused, in Part 2, we have chronicled the experience of the convicted and imprisoned, two men each serving life sentences for crimes they maintain they did not commit. We are thrilled to be able to share this new phase of the journey with viewers."
Ricciardi and Demos will introduce Avery's new attorney, Kathleen Zellner, and follow his post-conviction process. It will also focus on Laura Nirider and Steven Drizin, Dassey's lawyers from Northwestern University's Center on Wrongful Convictions of Youth.
Season 2 of Making a Murderer premieres Friday, Oct. 19.