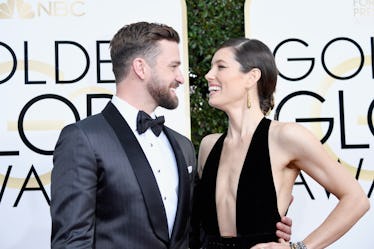 The Way Justin Timberlake Asked For Jessica Biel's Number Is Adorably Relatable
Frazer Harrison/Getty Images Entertainment/Getty Images
From Jenna Dewan and Channing Tatum to Anna Faris and Chris Pratt to, most recently, Ariana Grande and Pete Davidson, our fragile hearts have withstood a whole lot of pain this year when it comes to our favorite celebrity couples. But there are still some couples who are remaining strong. For example, one of my favorites is Justin Timberlake and Jessica Biel who have now been happily married for over six years! But long before they were one of our favorite celeb couples, they were just two strangers. So, how did Justin Timberlake ask Jessica Biel out? How did one of our all-time favorite Hollywood romances begin?
In his new book, Hindsight: & All the Things I Can't See in Front of Me, Timberlake, 37, gets candid about how he first fell for Biel, 36. And, TBH, it's kind of normal-ish in the most adorable way possible.
Like many non-famous couples, the two first met at a party. Only their party was in Hollywood and probably hosted by someone mega rich and fabulous... but that's neither here nor there.
Timberlake was instantly attracted to his wife-to-be as soon as he saw her at the party. "When I met Jess, it was undeniable how beautiful she is," he wrote, according to People.
But it was more than just a physical attraction that him drew him towards Biel. "I made some sort of sarcastic comment, really dry," he recalled of his behavior that night, according to People. "Nobody got it except her. She laughed, and I noticed, all of a sudden, and in the way where you wonder if a person's like you, if they have a very dry, dark sense of humor, too."
So, yeah, he met her and was instantly attracted to both her beauty and her sense of humor. But he still didn't ask for her number, which means we now can go to sleep in peace with the knowledge that even Justin Timberlake once froze up and forgot to get the number of that person he was into at the party. Stars, they're just like us!
As most of us can imagine because, you know, we've been there, Timberlake was unable to get Biel off his mind. "I'm kind of really interested in that girl," he recalled thinking, according to People. "There was just something about that girl. Kind of interested in that girl. Goddamn it."
When he finally saw her again when she came to his FutureSex/LoveSounds tour, he was nervous. "I had to psych myself up," he remembered, according to People. "I had to remind myself that I was me — giving myself a pep talk, shadowboxing with myself, rubbing my own shoulders." Next time you find yourself feeling nervous that your crush is about to show up to your party (I'm going to go ahead and assume you don't have any world tours planned), I'm going to, again, encourage you to remember that Justin Timberlake has felt this way before! You and Timberlake are basically the same person.
He was finally able to get her number the night she came to his show when he offered her and her friends a ride on his tour bus. After that, they started talking until they saw each other again at the Golden Globes. Casual.
"Then the Golden Globes came up, and that's when we planned on seeing each other," Timberlake writes, according to People. "We were both still seeing other people, keeping ourselves safe from getting hurt, from really putting ourselves out there. It took a bit for both of us to admit to ourselves that we were really, really into each other."
Alright, now next time you're stuck just casually hooking up with a person without knowing "what you are," just remember that Justin Timberlake and Jessica Biel have been there too, so you're basically an A-lister by association.
People reports that Timberlake writes in his book that the two were casually dating for a while, until they finally decided to become exclusive following a month together after he came back from a trip abroad.
The two tied the knot back in 2012 and had their son, Silas, in 2015.
So happy for their happiness!