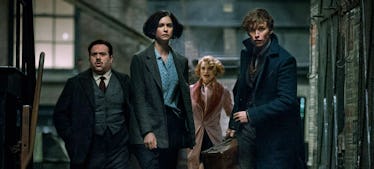 Here's The 'Fantastic Beasts' Refresher You Need Before Seeing 'Crimes Of Grindelwald'
Warner Bros. Pictures
Fantastic Beasts: The Crimes of Grindelwald is now officially in theaters, and although only two years have passed since the premiere of the franchise's first film, we can only remember so much about the ever-growing Wizarding World. J.K. Rowling loves dropping surprise updates about how wizards lived before Harry Potter came along, and thanks to her constant clues, Fantastic Beasts is a bit of a blurry story. How did Fantastic Beasts end? Here's your quick refresher if you plan on seeing Crimes of Grindelwald ASAP.
Set in New York in 1926, Fantastic Beasts and Where to Find Them explored a world only vaguely connected to the Boy Who Lived. Eddie Redmayne's magical zoologist Newt Scamander (the grandfather of Luna Lovegood's future husband) unexpectedly became involved in New York City's tenuous relationship between wizards and Muggles, known as No-Majs in American lingo. Alongside a team consisting of No-Maj Jacob Kowalski (Dan Folger), Auror Tina Goldstein (Katherine Waterston), and her Legilimens sister Queenie (Alison Sudol), Newt's quest to track down his lost magical creatures was sidetracked when Credence Barebone's secret identity as a powerful Obscurus was revealed.
The group was able to defeat Credence's violent rage against the city, but Aurors decided to vanquish him in order to protect the magical world. A sliver of Credence in Obscurus form escaped the spells, but this apparent defeat and the arrest of villain Gellert Grindelwald (formerly known as Auror Graves) was enough for Newt and his friends to part ways. The wizarding community was also forced to send a memory-erasing rainfall across the city to prevent No-Majs from remembering the damage that the Obscurus caused.
This rid Jacob of his memories of Newt and the Goldsteins. Having developed a soft spot for him, Queenie later found Jacob at his new bakery, which Newt secretly funded, and the film's ending alluded to the two reconnecting. As he was selling pastries in the shape of magical animals, it's clear that Jacob's time with the wizards has somehow lingered despite the Aurors' spell.
As for Newt, he boarded a ship to Europe after bidding farewell to Tina. Although Potterheads know that Newt and Tina ultimately end up married, the Fantastic Beasts ending just barely touched upon the possibility of romance between them. Redmayne and Waterston hinted in a BuzzFeed interview that the characters have grown apart after their natural camaraderie in the first film, so it looks like we have another slow burn romance à la Ron and Hermione in store. Redmayne teased, "There's miscommunication...it's desperate because they're sort of pining for each other, but things have gone awry. Part of this film is about them re-finding each other."
Although Crimes of Grindelwald may kick off with this fierce foursome separated, the trailer assures fans that they find their way back to each other. Warner Bros.' official synposis of the sequel reads:
Making good on his threat, Grindelwald escaped custody and has set about gathering followers, most unsuspecting of his true agenda: to raise pure-blood wizards up to rule over all non-magical beings. In an effort to thwart Grindelwald's plans, Albus Dumbledore (Jude Law) enlists his former student Newt Scamander, who agrees to help, unaware of the dangers that lie ahead. Lines are drawn as love and loyalty are tested, even among the truest friends and family, in an increasingly divided Wizarding World.
Wands at the ready, folks! Fantastic Beasts: The Crimes of Grindelwald is currently in theaters.