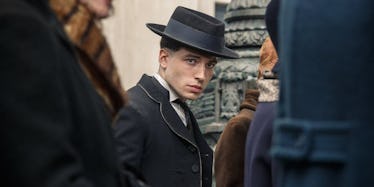 Here's Everything 'Fantastic Beasts' Fans Should Know About Credence Barebone
Warner Bros. Pictures
Fantastic Beasts and Where to Find Them hit theaters only two years ago, but that can feel like a lifetime in the world of movies. Introducing even more characters and wizarding world locations, the upcoming sequel Fantastic Beasts: The Crimes of Grindelwald is bound to dive right into spellbinding conflict, so anyone with a fuzzy memory of the first film needs to catch up ASAP. To start off, who is Credence Barebone in Fantastic Beasts? The mysterious character had a strong connection to one of the first film's biggest magical threats.
Played by Ezra Miller, the lonely Credence first appeared in New York as the adopted son of Muggle (or No-Maj, as American wizards say) woman Mary Lou Barebone. As the fiery head of the New Salem Philanthropic Society, Mary Lou (Samantha Morton) was intent on spreading her beliefs that magical folk are dangerous. She forced Credence to join her campaign, and worn down by years of her abuse, Credence obeyed. At the time of Fantastic Beasts' release, Miller said about the character's struggles:
It's powerful to explore these ideas of moral ambiguity and the idea that everyone's got multitudes within them and often the circumstances of one's life bring out one element or another, so there's always a way to look at even the most horrific people you just want to hate and to have compassion for them.
Credence then struck up a friendship with Auror Percival Graves (Colin Farrell), who was casually hiding the fact that he was actually the deadly villain Grindelwald in disguise. But, y'know, no biggie. Promising to help Credence escape from his mother, Graves / Grindelwald asked him to track down an Obscurus, a being within magical children holding back their powers that was likely the source of recent disasters in the city.
While the movie initially implied that Credence's adoptive sister Modesty held the Obscurus inside her, Credence turned out to be the destructive force. Because his magic was so strong, he survived longer than most wizards living with an Obscurus, prompting his fierce, climatic attack of New York. Tina Goldstein (Katherine Waterston) was able to calm Credence down from his otherworldly form, but a team of Aurors disintegrated him to protect the magical world. A tiny sliver of Obscurus escaped their spells, and as the Crimes of Grindelwald trailers explained, Credence has now begun a new chapter working at the circus alongside a familiar figure.
There, Credence has befriended a literal shapeshifter named — wait for it — Nagini (Claudia Kim). While Potterheads know Nagini as Voldemort's snake and most valued Horcrux, Crimes of Grindelwald reveals that she once lived as a human with Maledictus blood, meaning she could naturally transform into an animal. While Credence's loyalty leans more toward Grindelwald, Nagini is seen in the trailer alongside Newt Scamander (Eddie Redmayne), suggesting she acts against Grindelwald only to devote herself to Voldemort years later. Credence may not be as important of an antagonist as he was in Fantastic Beasts, but his ties with Nagini mean you should definitely keep an eye on him during the new movie.
Fantastic Beasts: The Crimes of Grindelwald is in theaters on Friday, Nov. 16.