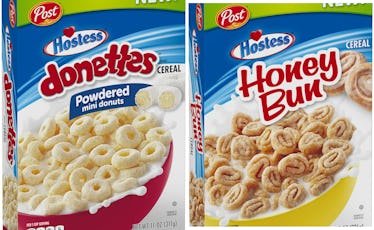 These New Honey Bun & Donettes Cereals Are A Delicious Twist On Your Favorite Treats
Post Cereal
I like to think of myself as (somewhat) of an adult — I pay rent and taxes, I cook for myself on a regular basis, and I'm no longer embarrassed to be seen with my parents in public places. But one of the main things holding me back from achieving ultimate adulthood status is my undying adoration for sugary cereals — Cinnamon Toast Crunch, Reese's Puffs, and Frosted Mini Wheats are quite literally my lifeline. Most recently, though, I've been dying to try Hostess Cakes' new Honey Bun and Donettes Cereals, which taste just like your favorite snack time superstars. Uh, YUM.
Attention all '90s babies and sweet-toothed pals — popular cereal brand, Post, has partnered with Hostess to create two of the greatest sugary breakfast cereals of all time: Donettes and Honey Bun. Both taste just like the pastries you grew up knowing and loving, and according to a press release, they're set to debut in all major grocery retailers across the U.S. in January 2019. I don't know about you, but both are definitely set to kick off my year with a bang.
First and foremost, Donettes Cereal is inspired by your one and only favorite packaged doughnut. Each spoonful is filled with tiny doughnut-like rings, and according to the press release, they manage to evoke the sugary taste of the powdered pastry in each delectable bite. Yes please!
Next is Post's Honey Bun cereal, which, according to a press release, is a sweet and undeniably satisfying start to anyone's day. It tastes just like the classic breakfast pastry that you probably stole from some kid in your elementary school class at one point or another, and if you love honey like I do this is probably going to be your go-to breakfast, snack, and dessert. Just add a little almond milk, and it's seriously heaven in a bowl.
Once you've given both Donettes and Honey Bun Cereal a shot (or three), you might still be looking for a unique new treat to wake up with. And if that is — in fact — the case, General Mills came in clutch with Lucky Charms Frosted Flakes Cereal last year in December 2017, and in all honesty, it was the mashup to end all mashups. Between bites of crispy sugary flakes and saccharine, soft mallows, it was essentially unbeatable. There weren't many places to find it, though — you could only find it on Instacart and at certain Shop Rite locations. Luckily, though, Donettes and Honey Buns Cereal will be available practically everywhere.
No matter how old I'll get, I will always love a new sugary cereal like nothing else. And in all honesty, these Hostess cereals are pretty hard to beat. Between having mini Donettes in your bowl, and a spoonful of Honey Bun, there are so many tasty options that'll have you licking your lips until the end of time. My cereal pantry is pretty stocked until their 2019 debut, but seriously, January couldn't come sooner.