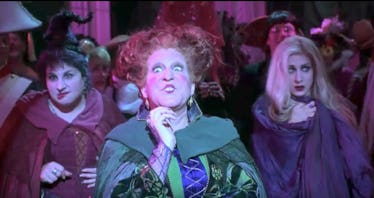 A 'Hocus Pocus' Drinking Game Exists & It'll Give Your Movie Night Some Extra "Boos"
It can be tough to come up with new and creative ways to celebrate Halloween. Of course, you can always throw parties and think outside of the box when it comes to your costume, but sometimes, you might want something just a bit different. Now, you can spice up your favorite Halloween movie viewing party by learning how to play the Hocus Pocus drinking game.
Generally, I don't really need a game to make me want to watch the best Halloween movie ever made, but I'm not opposed to switching things up once in awhile. Thanks to HomeWetBar.com, you don't even have to do any of the legwork to play the Hocus Pocus drinking game. Delish shared a handy set of directions (originally posted by HomeWetBar.com) that will have you sippin' as you watch the Sanderson Sisters try to "put a spell on you."
With all the talk of remaking this 1993 classic, (which I'm really not sure I'm on board with yet, because, like, how can you top Bette Middler as Winifred Sanderson) you can rest easy knowing the original Hocus Pocus still reigns supreme, for now (and honestly, it probably always will). So, what better way to properly honor the cult classic than by raising a glass and taking a shot when Dani says "yabos?"
If you're over 21 years old, make sure you bookmark the rules so you know when to sip, gulp, or take a shot. (As always, drink responsibly.)
After taking a look at the rules, it appears that you might be sipping throughout the entire movie. I mean, Thackery Binx is so sassy, in both human and cat form. So, if you're looking to be able to function like a human the next morning, maybe just choose one or two from the "Sip" list to follow during the movie.
The "Gulp" rules are pretty hefty, too, but you could always participate in every other gulp, or you could switch out your witches' brew for some apple cider halfway through. Heck, you could play exclusively with apple cider, a PSL, or whatever fall drink helps you get your cozy on.
Finally, there are the "Shot" rules. Don't chalk it up as "just a bunch of Hocus Pocus," and maybe don't take a shooter every time Hocus Pocus is said. Even though I don't have an exact count on the number of times it's uttered in the movie, I know it's more than one or two.
The "sentimental sibling moments" could rack up the shot opportunities, too. Dani and Max have enough sibling spats to temper their loving moments, but Thackery and Emily are pretty much as close as brother and sister can get. I mean, I get it, Thackery loves Emily and wants to save her from the witches, but they're close bond could empty your bottle — so maybe pick and choose when it comes to the Binxes' sweet moments (or, like I said, just sip on a PSL instead).
If you're a super-fan of the film (who isn't?), maybe you've already come up with your own games to play while watching the movie every night in October.
For example, one of my additions would be to drink every time my sister talks about how hot that lead singer skeleton in the band is from the scene where the Sanderson sisters sing "I Put A Spell On You" at the Halloween party. I somewhat agree, but I mostly just get annoyed with how all of the adults won't listen to Dani and Max warning them about the Sanderson sisters. Like, I get it, Mrs. Dennison. You're dressed as Madonna, but listen up, your kids know what they're talking about.
So, this Halloween season, instead of just reciting along with every word to Hocus Pocus, you can switch it up with this new drinking game. Just remember, you do want stay alert in case you need to defeat three witch sisters on the prowl for eternal youth. Drink responsibly.
Check out the entire Gen Why series and other videos on Facebook and the Bustle app across Apple TV, Roku, and Amazon Fire TV.