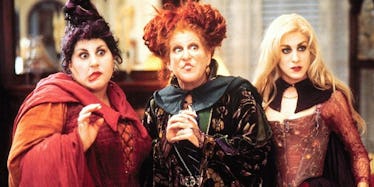 The 'Hocus Pocus' Remake Is Coming, So Start Practicing Your Spells ASAP
Disney
It's been nearly 25 years since the Black Flame Candle was first lit and the Sanderson sisters were reborn to wreak havoc on Salem, Massachusetts, and now Disney is about to do it again! Disney Channel is currently developing a remake of Hocus Pocus for a new generation, the network confirmed to Deadline. So start stirring your cauldrons, and get all the Hocus Pocus remake details right here.
The most important thing to note about the new Hocus Pocus movie is that, sadly, it won't include the original Sanderson sisters, the silly and scary witches who were famously played by Bette Midler, Sarah Jessica Parker, and Kathy Najimy in the original cult classic. It also sounds like we won't be seeing immortal cat Thackery Binx, zombie Billy Butcherson, or original protagonists Max, Allison, and Dani in the upcoming remake either. Reports say the new TV movie will star a completely new cast. This news shouldn't be too much of a shock to fans who have been following the Hocus Pocus sequel rumors that have been rampant for years now — Bette Midler denied any involvement in a follow-up movie point-blank back in 2015 when she responded to a Facebook Live question by saying:
After all these years and all the fan demand, I do believe I can stand and firmly say an unequivocal 'no.'
It also sounds like the new remake will be shaking things up behind the camera as well. Scarlett Lacey, who is best known for her writing credits on E!'s British royal drama The Royals, will be penning the new script, and the original writers Neil Cuthbert and Mick Garris will reportedly not be involved. Hocus Pocus director Kenny Ortega will reportedly also not be back for the remake. Ortega has directed some of Disney Channel's most successful original movies alongside Hocus Pocus, including the High School Musical franchise, and most recently Descendants. No word yet on who will be taking Ortega's spot as the director of the new movie. The only member of the original crew we know is back for the remake is producer David Kirschner, who will serve as an executive producer on the new movie.
Though this Hocus Pocus remake will clearly be a completely new take on the witchy original, it's still something for fans to celebrate. The 1993 Disney classic quickly developed a cult status among fans, many of whom have been clamoring for a sequel or some sort of follow-up for years. This popularity is credited to the fact that Disney-owned networks Disney Channel and Freeform (formerly ABC Family) continue to air Hocus Pocus several times each year around Halloween. For example, this October, Freeform is scheduled to air Hocus Pocus a whopping 16 times during its annual 13 Nights of Halloween block.
While Hocus Pocus has risen to cult status among millennial audiences, it was never a critical darling. The movie received lukewarm reviews at best when it was released in 1993, with most critics calling it hokey and mediocre. Many critics at the time also balked at Disney starting off the flick with murders and hangings. Hocus Pocus still holds a lowly 30 percent rating on Rotten Tomatoes, but as to be expected, its user rating is considerably higher.
The Hocus Pocus remake is reportedly still in early stages of development, so we don't have any clue on when it will be released yet. But I don't think it's too much of a jump to assume the team behind it would be looking to premiere around Halloween of next year. So get ready for even more Sanderson magic to be hitting Disney Channel in October 2018.