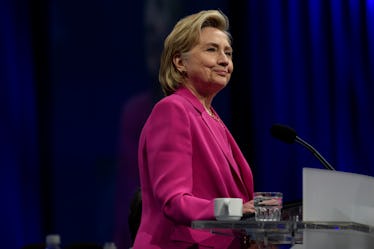 Hillary Clinton Got Real Shady About Donald Trump's Meeting With Vladimir Putin
Jeff Swensen/Getty Images News/Getty Images
Listen, 2018 has been a trying year so far, but there have been some bright spots. Like, say, Hillary Clinton's increasingly IDGAF attitude about commenting on public issues. It's like after a lifetime in the public eye she's really coming to realize that she's not in public office, she's not planning to be in public office anytime soon, and that means she can say... more or less whatever she wants. And on that note, Hillary Clinton's tweet about Donald Trump's meeting with Putin is some real shade, and I honestly did not expect this from HRC.
On Monday, July 16 President Donald Trump will be meeting for his first formal summit with Russian President Vladimir Putin in Helsinki, Finland, which is controversial for oh so many reasons, not least of which is the fact that Russia is known to have meddled in the 2016 presidential election. The summit is also coming hard on the heels of one of those traditional diplomatic exercises in playing nice — the international sports tournament. On July 15, the 2018 FIFA World Cup, hosted by Russia, finished with France taking home the title. So of course everyone was talking about it, and that includes the president, who tweeted out his congratulations to both the winning team and, weirdly enough, the host country and its president.
Which left him open to this amazing burn from his one-time presidential election opponent. Clinton tweeted,
Great World Cup. Question for President Trump as he meets Putin: Do you know which team you play for?
Wow. I was not expecting that from the generally fairly reserved Clinton.
The former secretary of state and 2016 presidential candidate was clearly referencing Trump's own tweet, posted earlier in the day after France beat out Croatia 4-2 in the World Cup Final at Luzhniki Stadium in Moscow, Russia. Shortly after the final whistle blew, Trump tweeted out his congratulations to the French team, but, weirdly, followed it up by quickly switching gears and congratulating Putin for hosting the event. He wrote,
Congratulations to France, who played extraordinary soccer, on winning the 2018 World Cup. Additionally, congratulations to President Putin and Russia for putting on a truly great World Cup Tournament -- one of the best ever!
Leaving aside the fact that Russia hosting the World Cup event at all was enormously controversial and marred by accusations of bribery and corruption, it's also just bad optics for the president to be talking up Putin and Russia at all right now. On July 13, FBI Special Counsel Robert Mueller's investigation into Russian meddling in the 2016 presidential election announced indictments against 12 Russian individuals, who are charged with allegedly hacking and carrying out a "sustained effort" to interfere with emails and networks of members of the Democratic party. The charges are part of an ongoing investigation which has so far resulted in 34 indictments.
Following the indictments, Democratic leaders called on Trump to cancel his summit with Putin, calling the Russian president an "adversary" who couldn't be trusted. "These indictments are further proof of what everyone but the president seems to understand: President Putin is an adversary who interfered in our elections to help President Trump win," Sen. Chuck Schumer, the Democrat from New York, said according to The New York Times. The summit is still on.
It's fairly unsurprising that the president is willing to meet with Putin despite the criticism. Trump has frequently spoken highly of Putin, including casting doubt on the U.S. intelligence community's assessment of the meddling and even complimenting him on winning an election which had allegedly been rigged in Putin's favor (and which he had been instructed not to compliment Putin on).
The meeting between the two presidents has already been subject to protests, with demonstrators calling out everything from Trump's immigration policies to Putin's history on LGBTQ+ issues. So just add Clinton's tweet to the list, I guess. It can't be any more snarky than some of the signs we've already seen out there.