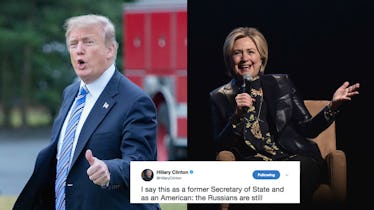 Hillary Clinton Put Donald Trump On Blast About Acting On Russian Election Meddling
Hillary Clinton: Political leader, acclaimed author, and apparently expert shade thrower? Clinton took to Twitter to share her thoughts on the ongoing Russian intelligence investigation plaguing Trump's presidency, and she didn't hold back. Hillary Clinton's tweet about Donald Trump and the Russian election meddling is so brutal, and I'm living for it.
On Feb. 28 Clinton shared a Washington Post article discussing the investigation into Russia's meddling in the 2016 presidential election. The article focuses on National Security Agency director Michael Roger's testimony in front of the Senate Armed Services Committee, in which he said that Trump hadn't given him any new capabilities or authority to challenge Russian cyber attacks ahead of the 2018 midterms. He warned that Russia had come to the conclusion that there would be little to no consequence for interfering in American politics, and said that unless changes were made, the meddling would likely continue.
In addition to sharing the article, Clinton expressed her own personal thoughts on the matter. Not only did she subtly hint to her actual political experience as opposed to the current president, but she also delivered a deliberate mic drop, calling Trump out for not taking action on Russian meddling in the 2016 presidential election.
She wrote,
I say this as a former Secretary of State and as an American: the Russians are still coming. Our intelligence professionals are imploring Trump to act. Will he continue to ignore & surrender, or protect our country?
It's no secret that Clinton has long been concerned about Russia's involvement in the 2016 presidential campaign, which she has suggested was one of the factors that cost her the current presidency to Trump. In fact, in her 2017 memoir What Happened? Clinton admits to becoming moderately obsessed with the Russian meddling conversation. She dedicated an entire chapter in her memoir to the topic, and doesn't hold back while writing about it.
She wrote,
There's nothing I was looking forward to more than showing Putin that his efforts to influence our election and install a friendly puppet had failed. I know he must be enjoying everything that's happened instead. But he hasn't had the last laugh yet.
I'm not crying. You're crying.
His argument? That Russian President Vladimir Putin has "told him" numerous times that Russia had nothing to do with the election. Despite, of course, the U.S. intelligence community's consensus that, uh, they definitely did.
Coincidentally enough, this isn't the first time Clinton has called Trump a puppet during the presidential election. On Oct. 20, 2016 during the third and final presidential debate, Clinton claimed that Trump would be a "puppet" for Russia's Putin if Trump secured the 2017 presidency.
Also, for those asking how Trump responded to Clinton's remark, it's exactly how we would expect Trump to respond.
"No puppet. No puppet," Trump said. "You're the puppet. No, you're the puppet."
Adulting at its finest.
Then, during a Nov. 20, 2017 interview with Mother Jones, Clinton stood by her comments that Trump is Putin's "puppet."
"I don't know how the president of the United States, with all of the concerns about the integrity of our elections, could meet with Putin just recently and basically say, 'he told me again he didn't do it,'" she said, referencing Trump's denial of Russia's involvement in the 2016 presidential election.
Clinton went on to discuss Trump's "naivety" in refusing to believe Russia had anything to do with the presidential election.
She said,
I can't believe that he's so naive. I think that he hopes or expects the rest of us to be naive, or at least the people who support him to be naive. But this is a serious cyberattack on America.
The Russia investigation continues to give us more drama than a 90 era's soap opera. According to a report from The New York Times on Jan. 25, Trump allegedly ordered special counsel Robert Mueller to be fired, but eventually withdrew his order once receiving backlash from White House counsel. Mueller's interest has allegedly been piqued even more since that news has been released.
I don't know about y'all, but I'm living for the suspense. And the shade.
Oh Hillary, you truly are the one who got away.
Disclosure: Hillary Clinton's son-in-law Marc Mezvinsky joined Social Capital, an investor in Bustle Digital Group, in mid 2017 and joined the Board of Bustle Digital Group in early 2018.