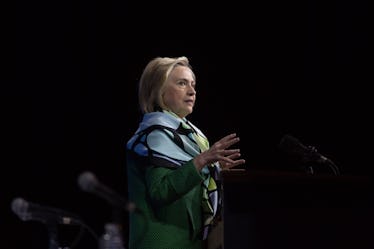 Hillary Clinton Slammed Trump's Policies On Separating Immigrant Families
Kevin Hagen/Getty Images News/Getty Images
The Trump administration's apparent unwillingness to back down from its cruel enforcement of policies that lead to separating families at the U.S. border is not terribly shocking in and of itself. President Donald Trump campaigned on tightening up the borders by any means necessary, and the grotesque images of children being torn from their parents circulating in the media aren't likely going to be enough to change his mind. That hasn't stopped his detractors, most notably including former first ladies Laura Bush and Michelle Obama. Now, another former first lady has spoken out, and Hillary Clinton's response to Trump's family immigration policies pulls no punches.
Clinton spoke Monday, June 18, at an awards lunch for the Women's Forum of New York, a nonprofit community of women in leadership roles active in the city since 1974. She said that anyone with a conscience should be outraged by what is happening at the U.S. border by order of the White House, according to The Hill.
"This is not happening because of the 'Democrats' law,' as the White House has claimed," Clinton said in her remarks, per The Hill, referencing Trump's false claims that Democrats caused family separation at the border. "Separating families is not mandated by law at all. That is an outright lie. It's incumbent on all of us, journalists and citizens alike, to call it just that."
Clinton echoed her remarks in a series of tweets.
The policy Clinton addressed is twofold: prosecuting migrants harshly and separating parents from children in order to prosecute those adults are the issues that are exacerbating the migrant crisis at the border. Both are being enacted by the Trump White House, thanks to a "zero tolerance" policy announced by Attorney General Jeff Sessions, even if Trump himself won't take credit for such a cruel practice.
In a tweet on June 5, Trump addressed the issue by absurdly blaming the Democrats for his own policy, saying, "Separating families at the Border is the fault of bad legislation passed by the Democrats. Border Security laws should be changed but the Dems can't get their act together! Started the Wall." As criticism began to mount, Trump again addressed the issue in a bizarre Twitter rant on June 18 — incorrectly stating that crime in Germany was on the rise (it isn't) and that Democrats were to blame for the U.S.'s cruel border policies (they aren't).
Clinton also seemed to criticize Sessions and White House Spokeswoman Sarah Huckabee Sanders, who have publicly invoked the Bible to defend the policy.
"I would cite you to the Apostle Paul and his clear and wise command in Romans 13, to obey the laws of the government because God has ordained them for the purpose of order," Sessions said in a speech to law enforcement officers on Thursday, June 14. "Orderly and lawful processes are good in themselves and protect the weak and lawful."
Sanders defended the policy at a White House press conference that same day.
"Those who selectively use the Bible to justify this cruelty are ignoring a central tenant of Christianity," Clinton said, per The Hill. She added,
What is being done using the name of religion is contrary to everything I have ever taught. Jesus said 'suffer the little children unto me,' he did not say 'let the children suffer.'
Sessions previously explained the mentality behind the cruel policy in May in a speech he gave before lawmakers, per NPR, saying,
If you cross this border unlawfully, then we will prosecute you. It's that simple. If you smuggle illegal aliens across our border, then we will prosecute you. If you are smuggling a child, then we will prosecute you and that child will be separated from you as required by law. If you don't like that, then don't smuggle children over our border.
It's particularly bizarre, then, that Sessions seems to know exactly what he's doing. There exists this cruel policy of splitting up families at the border, and detractors are calling it cruel. Sessions acknowledges the cruelty, but says it's necessary. So why the heck is the White House blaming Democratic lawmakers for a policy it created on its own? Unfortunately, that's a question the administration has yet to address — and it's a question that only it can answer.