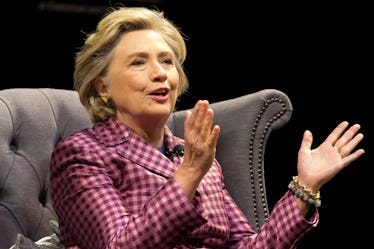 Hillary Clinton Called Out Donald Trump & Harvey Weinstein Simultaneously & It's Perfect
Matthew Horwood/Getty Images News/Getty Images
With all the attention that sexual violence and misconduct against women is getting, it's easy to forget that there is a prime example of sexually inappropriate behavior sitting in the White House. Hillary Clinton compared Donald Trump and Harvey Weinstein on Britain's The Andrew Marr Show amid reports of the former studio executive's alleged decades-long sexual misconduct, asserting that sexual harassment cannot be tolerated in any industry — with a backhanded comment about how it's currently being tolerated in Washington D.C. "After all, we have someone admitting to being a sexual assaulter in the Oval Office," Clinton stated, per The Huffington Post.
Clinton is, of course, talking about the infamous 2005 Access Hollywood tape, where our current president was recorded bragging about how he can kiss women and "grab them by the p*ssy" without their consent.
The parallel that Clinton is making here is undeniable: while Harvey Weinstein is being ousted by Hollywood in the wake of his sexual assault allegations, Trump seemingly manages to escape any legitimate consequences for his actions.
Weinstein was accused of sexually harassing and assaulting women for decades by The New York Times in an explosive report published on Oct. 5. Since then, a slew of public statements from actresses alleging abuse have been released, which has resulted in a massive public backlash and membership revocations from both the Producer's Guild and the Academy of Motion Picture Arts and Sciences. Weinstein has denied the allegations of assault, saying in a statement via a spokesperson that he "believes that all of these relationships were consensual" and that he never retaliated against women who turned him down.
And yet Trump, who has been recorded discussing his own sexual misconduct, continues to run this country. In fact, he's continuously made comments that demean women, discussing their place in society and the importance of chest size. This is the man this country has let into the Oval Office.
Countless statements condemning Weinstein from Hollywood's elite have been released since the Times first broke its report. Hillary Clinton, whose Clinton Foundation received donations from Weinstein, was criticized for her statement against Weinstein that came five days after said report, with some questioning why it took her as long as it did.
White House adviser Kellyanne Conway called Clinton a hypocrite for her statement, citing the allegations against Bill Clinton and his sexual misconduct during his political career, Politico reported. Bill Clinton was accused of exposing himself to Paula Corbin Jones, a former Arkansas state employee, in 1991 while serving as the Governor of Arkansas.
Bill Clinton subsequently paid $850,000 to settle without claiming liability. Conway referenced this incident in her interview, arguing that "you talk about sexual harassment in the workplace, [Bill Clinton] gave $800,000 to settle," This suit and other allegations of sexual misconduct tarnished Clinton's presidency, and ultimately led him to be one of the two presidents in the nation's history to have been successfully impeached by the House of Representatives. (The Senate later acquitted Clinton in a vote, nullifying the impeachment from the Republican-led house.)
While it may seem somewhat hypocritical for Hillary Clinton to make statements on not tolerating sexual misconduct given her own experiences with her husband's past, the fact is that sexism and sexually inappropriate behavior continues to be tolerated — as evidenced by our current sitting president.
While Trump himself made a statement on the Harvey Weinstein allegations, he only said that he is "not at all surprised" by the news, without condemning sexual misconduct. When one reporter brought up the 2005 Access Hollywood video, Trump again defended his comments. Although Trump eventually did apologize for the comments he made, he initially tried to everything down, saying it was just "locker room banter." Apparently, he's still using that same defense today.
A number of women have come forward with their own accounts of Trump and his alleged sexual misconduct. Just yesterday, Buzzfeed reported that Trump has been subpoenaed by the lawyer of Summer Zervos, a former contestant on Trump's reality TV show The Apprentice. The subpoena calls for documentation concerning all other women who have accused Trump of sexually inappropriate behavior to be handed over. Zervos accused Trump of kissing and grabbing her on two separate occassions, which Trump denies.
Although all of the attention is on Harvey Weinstein and Hollywood right now, it's important to remember that toleration of sexism and sexual misconduct can be found in any industry. Our current president is a reminder that this includes politics.
While Harvey Weinstein is being widely denounced and stripped of his power, we can only hope that Trump will be held to the same ethical standards come 2018.