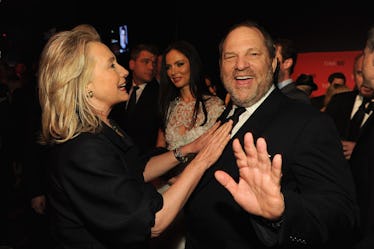 The Clinton Foundation Is Keeping Harvey Weinstein's Donations... So What?
Larry Busacca/Getty Images Entertainment/Getty Images
After questions arose, mainly from Republicans and conservatives, on Sunday, Oct. 15, the Clinton Foundation said they're keeping donations from Harvey Weinstein, the Hollywood producer accused of sexual misconduct by dozens of women, according to the Daily Mail. Weinstein was a noted Democratic contributor who gave money to a handful of political campaigns as well as up to $250,000 to the Clinton Foundation, a non-profit organization founded by former President Bill Clinton in 1997. While a handful of politicians have given donations from Weinstein to charities, the Clinton Foundation told the Daily Mail that Weinstein's money had already been used.
There's a lot of outrage coming from the Republican wing about this, going back to their favorite hypocritical argument that this proves for real this time that Hillary Clinton isn't a real feminist. And, once again, this is a ridiculous argument.
After a series of allegations against Weinstein were reported in the last two weeks (allegations which Weinstein's spokeswoman called "unequivocally denied"), Democratic politicians who got money from him took action. Senator Elizabeth Warren said she'd donate the $5,000 she got from Weinstein to charity. Senator Chuck Schumer said he'd donate the $14,200 he got from Weinstein to charities that support women. Senator Cory Booker said he'd give the $7,800 he got from Weinstein to the New Jersey Coalition Against Sexual Assault. Senator Kirsten Gillibrand said the $11,800 she got from Weinstein is going to RAINN, which supports victims of sexual violence.
These are all admirable moves. It's inspiring to see these politicians pivot the dollars meant for themselves to good causes (even if, arguably, it's just to save face).
But there's a very good reason why the Clinton Foundation isn't also donating the money they got from Weinstein to charity. The reason is that... well... the Clinton Foundation is a charity. As the spokesman told the Daily Mail, Weinstein's money has already been used to support the foundation's efforts to lower the cost of HIV medication and support women and girls in developing countries.
This is a fact that some have pointed out on Twitter.
Once more, Republicans are demonizing Clinton, which appears to be a hard habit for them to shake.
Throughout the election, Republicans claimed that the Clinton Foundation is a corrupt organization used to make the Clinton family money. While the foundation has faced criticism for its work in Haiti, Charity Navigator ranks the Clinton Foundation a 93.91 out of 100 using data from the IRS. That puts it among the most accountable charity organizations out there. Meanwhile, data shows, 435 million people have been impacted by the Clinton Global Initiative.
As the foundation's spokesman, Craig Minassian, said on Twitter, "suggesting [the Clinton Foundation] return funds from our 330,000+ donors ignores the fact that donations have been used to help people across the world."
Meanwhile, we get back, again to the fact that this talk from conservatives is hugely hypocritical. Weinstein was accused of sexual misconduct by dozens of women. Similarly, President Donald Trump has been accused of sexual misconduct by at least 11 women — with one case pending in court. To be clear, one doesn't make the other any better; this is just a further reminder that sexual misconduct is nonpartisan. But it does make it incredibly hypocritical for Republicans to call Clinton a phony supporter of women's rights, especially given that Clinton has repeatedly denounced Weinstein since the allegations were made public.
Republicans look for any opportunity to criticize Clinton, as they have been doing for three decades. This particular instance is nothing new, although it's pretty sad that they can't find a new target for this vitriol, given that she's not even running for anything anymore.