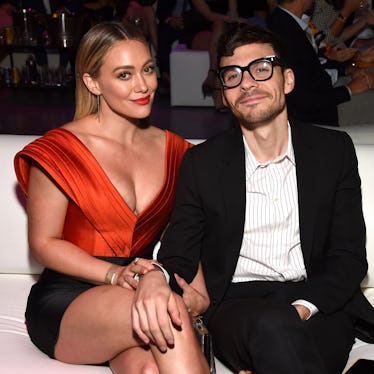 Hilary Duff & Matthew Koma's Body Language On Instagram Is So Sweet
Michael Kovac/Getty Images Entertainment/Getty Images
There are a handful of celebrity couples that you can tell on sight have a good thing going. Take, for example Hilary Duff and Matthew Koma's body language on Instagram which truly says it all. The two first met while working on Duff's 2015 album Breathe In. Breathe Out. At the time, Duff was still married to her ex, Mike Comrie. It wasn't until January 2017 that Duff and Koma made their first appearance together at Entertainment Weekly's pre-SAG Awards party at Chateau Marmont. The couple welcomed their first child, a daughter named Banks, in October 2018 and were married on Dec. 21, 2019 in Los Angeles at a wedding covered by Vogue. Pretty much the dream, right? Now they're seriously one of the most adorable couples in Hollywood.
If you've ever wondered just how serious the two are about each other, let Koma's butt tattoo of Duff's signature speak for itself. Yep, he got his wifey's signature permanently inked on his backside in September 2020, to which Duff responded in the Instagram comments: "Finest tiniest booty around. #youstucknowboy." Now that's commitment.
Duff and Koma are open about their love and regularly post adorable photos on IG that offer stans a peek at the dynamic between them. For a professional opinion on what their body language has to say about their connection, Elite Daily reached out to Patti Wood, body language expert and author of Snap: Making the Most of First Impressions, Body Language, and Charisma, and Traci Brown, body language expert and author of Persuasion Point: Body Language and Speech for Influence. Here's what they see.