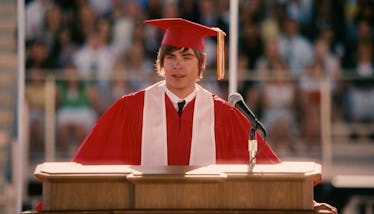 'High School Musical 3' Is Coming To Netflix In May & It's The Start Of Something New
Disney
Ten years ago, East High's basketball and musical star Troy Bolton proclaimed the words that no High School Musical fan could forget: "Once a Wildcat, always a Wildcat." And now that is more true than ever, because starting in May, you can stream High School Musical 3: Senior Year whenever you want on Netflix. That's right — Elite Daily can exclusively reveal that High School Musical 3 is coming to Netflix in just a matter of days, so start relearning the lyrics to the movie's iconic songs like Gabriella's soulful ballad "Walk Away," Troy's angsty melodramatic jam "Scream," and of course, Sharpay and Ryan's poppy ode to opulence "I Want It All."
The timing of this release is actually pretty perfect. High School Musical 3: Senior Year first came out almost exactly a decade ago, back on Oct. 24, 2008. It marked the first movie in the High School Musical franchise to be released theatrically, as the previous two movies both premiered and were confined to Disney Channel. The film also brought a satisfying close to the High School Musical trilogy, as fans watched all of the East High students graduate from high school and decide on which colleges or career paths they would be pursuing.
High School Musical 3: Senior Year will become available to stream on Netflix starting May 1. The third film will join High School Musical and High School Musical 2, both of which are already available to stream on Netflix.
Although High School Musical 3: Senior Year marked the end of what fans consider the central High School Musical trilogy, there are actually plans to revive the franchise in a couple of exciting ways. The High School Musical movies have already had one followup: 2011's direct-to-DVD spinoff Sharpay's Fabulous Adventure, which followed Ashley Tisdale's HSM character Sharpay Evans as she tries to establish herself as an actress in New York City. That movie is also streamable on Netflix.
Aside from that one Sharpay-centric movie, Disney Channel is actually planning to resurrect the High School Musical franchise with a whole new cast. Back in 2016, High School Musical 4 was revealed to be in the works. Although pretty much everything about that movie is still a mystery to this day, it is very likely that the fourth installment will follow an entirely new group of East High students with only a few (if any) small cameos from the original cast. I mean, you can't really have a movie called High School Musical with a bunch of people in their 30s, plus stars like Zac Efron and Vanessa Hudgens seem to have moved on and kept their roles of Troy Bolton and Gabriella Montez in the past. If any of the original cast do pop up in the fourth movie, then it will likely be for a cameo — maybe Sharpay Evans could return as East High's new drama teacher?
And there is even more for Wildcats to look forward to: Along with High School Musical 4, Disney is also developing a High School Musical television series. The announcement of the TV series came about a year after Disney announced plans for High School Musical 4, and since then there has not really been any clarification on whether the two projects are indeed separate things, or whether the movie was turned into a TV series, but either way there is going to be more High School Musical coming soon. The HSM TV show will be one of the first original series available on Disney's upcoming streaming service, which is expected to be released at the end of 2019.
While it might be a long wait for the High School Musical followups that are currently in development, at least now fans can watch all three High School Musical movies on Netflix. And get ready, because the full list of everything coming to Netflix this May will be released on April 24.