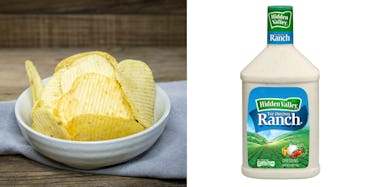 You Can Finally Buy Ranch-Flavored Chips, So You'll Never Have To Dip Again
Ranch is the king of dressings, hands down. Everyone knows that the versatile sauce perfectly coats veggies and cuts the spice on your favorite buffalo wings — but it's also a way of life for people who drizzle it over their pizza, mozzarella sticks, and fries. Like, ranch fountains actually exist, and I'm not mad about it. Honestly, what doesn't taste better dunked in some creamy and tangy ranch dressing? That's why the ranch fanbase's new snacks du jour, Hidden Valley's ranch-flavored chips and popcorn, are such game changers.
While touring Chicago's Sweets and Snacks Expo from May 22 to May 24, food Instagrammer, Junk Food Mom, came across a tasty duo that's guaranteed to make all your ranch dreams come true. According to Delish, the self-professed ranch fan-girl quickly took to social media to share the news that America's most popular dressing will be making its way into some of our favorite snacks. So prepare to spend less time dipping and more time snacking, because apparently, Pop! Gourmet has teamed up with Hidden Valley Ranch for ranch-flavored chips and popcorn that come in a bag for your munching convenience.
In her Instagram post, Junk Food Mom revealed that she was living her best life by sampling both varieties. She reported, "I only got to sample a few morsels and they are great. The chips had more of a sour cream and onion flavor but the popcorn really had the HVR [Hidden Valley Ranch] taste and was my favorite."
When it comes to all things ranch, Hidden Valley has got you covered. The geniuses of ranch creations have blessed our lives with ranch kegs, bejeweled bottles to hold your favorite flavor, and even merch that you can wear on the regular. And for the ranchaholic in your life, ranch fountains a la chocolate fondue can take your next barbecue to the next level.
However, the one thing that's been missing so far have been a selection of easy HVR-flavored snacks to fulfill all your ranch cravings. While Hidden Valley Ranch does offer one fairly simple recipe for making ranch-coated popcorn on their website, no one really wants to DIY their late night munchies after a night out, do they?
That's where Pop! Gourmet's Hidden Valley Ranch Chips and Popcorn come in. Instead of wasting precious time digging through your extensive ranch collection in the fridge, satisfy all those cravings by popping open a bag of these tangy bites. According to the product's packaging, it looks like the snacks are gluten free.
Unfortunately for us, there's no telling when these snacks are going to hit the market — but I think Junk Food Mom has the right idea in the meantime. She wrote, "For now let's just sing songs of joy and happiness that these exist. Hopefully @popgourmet can give us some info here... because I'll be first in line to purchase a few bags." Um, same here.
While Pop! Gourmet has yet to announce the new collaboration, their other popular combinations — I'm looking at you, Sriracha Hot Chili Sauce Popcorn — prove that they know what they're doing when it comes to infusing classic snacks with great flavors.
The only thing that could make this news even better would be if Pop! Gourmet started getting in on some of Hidden Valley Ranch's other amazing flavors. I'm just saying, there's no way that Jalapeño Bacon Ranch-infused chips and Cheddar and Bacon Ranch-flavored popcorn wouldn't fly off the shelves. That's just an idea, though. In the meantime, let's get to ranching the old fashioned way before these products hit the shelves.