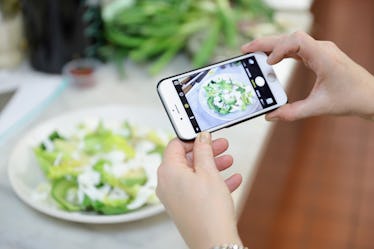 Hidden Valley Ranch Clothing & Keg Stands Are Here…
Neilson Barnard/Getty Images Entertainment/Getty Images
Ranch dressing is one of the most polarizing food items on the market. I'm partial to it on pizza, but I'm sure many of you out there just gagged at the thought, so to each her own. And now, the condiment gods have given us a new take on the tangy product, because Hidden Valley Ranch holiday clothing is here.
Typically, I would wager that ranch dressing goes with the aforementioned pizza, as well as spaghetti, french fries, and basically any food that can be breaded, deep fried, and found on an appetizer platter. If any of those sound less than mouth-watering to you, they are actually some of the more common excuses out there to guzzle the tangy dressing. Pancakes, s'mores, and Pop-Tarts are among the more objectionable ranch dressing food combinations. I think I'll skip the sweet pairings, although after 2 a.m. all bets are off (Hi, mom).
The godfathers of ranch dressing over at Hidden Valley have now given me the one ranch dressing pairing that I didn't know I was missing - clothing. I typically wear my heart on my sleeve (literally, because I have an anatomical heart tattoo on my arm, I'm not talking about feelings, ew). But now I can also proudly display my love for the most mysteriously flavored salad dressing-cum-dipping-sauce with Hidden Valley's new holiday dressing collection.
The Ugly Christmas Sweater
Just as the condiment company proudly proclaims on their site, "There's nothing ugly about this holiday must-have." I just hope I get invited to more than one ugly sweater party this winter so I can show off this beautiful gem.
The Everyday I'm Ranchin' Sweatshirt
For the more understated ranch lovers out there, this collegiate-themed sweatshirt still gets the point across. It also looks insanely comfortable, so don't mind me if I don't take it off until spring. It may end up garnished with a few ranch dressing stains by then, but I think that will just make it all the more festive.
The Kinda-Rude-in-a-Bossy-Way Socks
But, actually, can you bring me some ranch? And some pizza? Pro tip: Sleep in these socks when you're home for the holidays and maybe your parents will actually bring you some ranch when they break into your bedroom to wake you up at noon.
The Bottle Service Socks
If you want everyone to see your love affair with ranch when you're standing upright, these socks may be more up your alley.
The When I Slip, You Slip, We Slip Ranch Slippers
No need to continue stealing hotel slippers, these are clearly the superior option.
The Rancher's Fav Holiday Ornament
Ranch dressing. Rhinestones. Adorable Christmas tree ornament. It's the trifecta. The only thing that could improve this would be more rhinestones, like all over. If you have a Bedazzler, call me.
The Mini Keg For Ranch Stands
Who wants to hold my feet while I do a ranch dressing keg stand? Hidden Valley just made it that much more entertaining to imbibe in their product. But for the love of Eric Andre, please drink (eat?) responsibly. This mini keg holds up to 5 liters of the beautifully tangy dressing. The best part, though, the keg comes with a year's supply of ranch. It's unclear if that means a pre-specified amount that is supposed to last me a year, or if I get an unlimited supply for a year. Somebody's got to ask the tough questions.
The Fountain of Youth Ranch Edition
And now, the pièce de résistance. So long, chocolate fountains, it's time for a spotlight on this savory sculpture. Complete with a holiday-themed fountain skirt, this bad boy can hold up to 32 ounces of the otherworldly treat. I suggest dipping anything you can get your hands on into this, or just funneling ranch into your face with your hands. This is a no judgement zone. The fountain also comes with a year's supply of dressing, and I'm still waiting to find out exactly what that means.
Happy dipping!