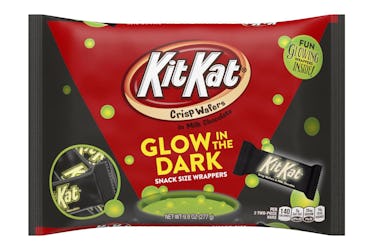 Your Favorite Halloween Candy Got A Glow Up To Make Your Holiday Lit AF
Hershey's
I don't know about you, but I usually start getting excited for Halloween around the end of August. One might say it's a little premature, but hear me out: with Halloween falling on a Wednesday, there are going to be two full weekends of celebrating. For planning both weekends, it'll take a few weeks to finalize each of my costumes, organize my party schedule, and, most importantly, buy all of the greatest candy for trick-or-treaters (and let's be real: for myself, as well). It looks like Halloween is literally going to be lit this year, though, because Hershey's new Glow-In-The-Dark Kit Kats are here to give my favorite holiday of the year a major glow up.
I'm no psychic, but I know for a fact that Halloween 2018 is going to be totally legendary. Hershey's is taking "spooky" to an entirely new level, with the introduction of its new Glow-In-The-Dark snack sized wrappers. According to Hershey's, the renowned candy company is truly revolutionizing the way Halloween-loving candy connoisseurs enjoy sweet treats, thanks to Glow-In-The-Dark Hershey's Milk Chocolate Bars, Glow-In-The-Dark Reese's Peanut Butter Cups, and even Glow-In-The-Dark Kit Kat Bars (yes, you read that correctly, and they're so eerie you might scream). I hope you aren't too spooked by these hauntingly tasty chocolates, because they're quite a treat.
When it comes to making your candy's packaging really pop on Halloween night, the packaging recommends that you keep your candy under a light prior to venturing into the darkness. A black light will help get that glow going, too. Either way, you'll really stand out amongst the other Halloweeners with your glow-y AF chocolates.
These lit candies were announced on Wednesday, Aug. 22, and you can get them for a limited-time Halloween treat, per Hershey's.
In addition to the glow-in-the-dark chocolate wrappers, Hershey's also released a slew of limited-edition Halloween-themed foils. According to Hershey's, the chocolate giant has new Reese's Peanut Butter Cups Miniatures with Spooky Foils, Kit Kat Miniatures with Spooky Foils, and, of course, Hershey's Kisses Milk Chocolates with Spooky Foils. It looks like each "Spooky Foil" comes complete with bats, ghosts, skeletons, and all things creepy-and-crawly. These candies definitely aren't frightening enough for you to have to leave the hallway lights when you sleep, but they'll 100 percent be an unexpectedly spooky surprise hiding inside of your trick-or-treat bag.
To top it all off, you'll probably want to add Hershey's new Dark Chocolate Kit Kats, Twizzlers Pull'n'Peel Orange & Black Cherry snack-size candies, and the new Halloween Assortment Pumpkin Bowl to the mix. According to Hershey's, the Halloween Assortment Pumpkin Bowl is complete with Hershey's Milk Chocolate, Reese's Peanut Butter Cups, Kit Kats, Whoppers, and Jolly Ranchers. You might think that's an unusual mix, but variety is the key to success, and what's better than doling out new kinds of candy, right? You'll definitely be the talk of the town. IMO, good candy is what makes a good Halloween party.
Halloween is one of the most important times of year, and preparing your candy assortment is essential. Whether it's for a party, for trick-or-treaters, or for yourself, snagging the best of the best candy is absolutely vital in order to celebrate the spooky holiday the right way. Now that Hershey's has glow-in-the-dark candy, you know it's going to be even more lit than usual. Plus, your Halloween candy picks are covered, so you'll have more time to plan your costumes and scary-awesome holiday plans. I wish you all the best of luck, and may the spookiness be with you.