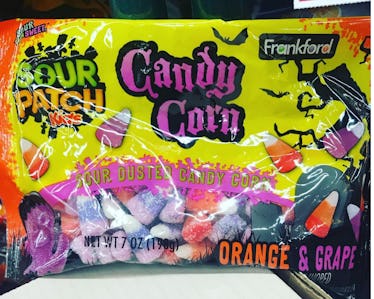 You'll Either Love Or Hate This New Sour Patch Kids Flavor For Halloween 2018
The ultimate Halloween cross-over candy is here, and TBH, I don't know how I feel about it. The ghoulish festivities might be months away, but Sour Patch Kids is already putting a tart spin on one of the spooky holiday's most signature confections with this Candy Corn Sour Patch Kids Halloween candy, according to Refinery29. Separately, Candy Corn and Sour Patch Kids are mainstays in the world of candies with their own devoted fanbases, but people are having ~ feelings ~ about the marriage of the two sweets.
Considering that it's only August — and still smack dab in the middle of patio season — I'm feeling pretty torn. TBH, it seems almost sacrilegious to start the Halloween candy bonanza this early. Secondly, this Candy Corn Sour Patch Kid flavor reportedly tastes like "sour dusted candy corn," according to people who've tried it. Unsurprisingly, people can't decide if that's a good thing or a bad thing — and the internet is so divided about it. What would "sour dusted candy corn" even taste like?
Well, according to Instagram blogger Junk Food Mom, it tastes "like a gummie but [with] that crumbly candy corn texture." The seasonal candy corn reportedly comes in a bag filled with orange and grape flavors, then they are dusted with that puckering "Sour Patch goodness" that we all know and love.
Ms Candy Blog described it as, "Sour Patch dusted orange and grape candy corn."
However, because the base is a candy kernel and not a gummy, several bloggers have noted that the bite is noticeably more sweet than sour. Junk Food Mom commented, "I think these are more on the sweet side than Sour. Definitely enjoyed the grape flavor but these are too sweet for me."
Instagram blogger Junk Banter also said that she liked the grape flavor the best. "I'm especially in love with the grape," she wrote. "It has a powdery sweetness and tastes like a sour, kickass version of Big League Chew. The orange is less special but good nonetheless. The best part about this candy corn is that is doesn't taste remotely close to candy corn." Oh, and both Junk Food Mom and Junk Banter relayed that they found the Candy Corn Sour Patch Kids at Dollar General. Unfortunately, the flavor wasn't on the store's online website at the time of publication.
I don't know how I feel about "powdery sweetness," but it's definitely sparked my curiosity enough to try it.
It looks like Instagram feels the same way, if the comments on Junk Food Mom's and Junk Banter's IG posts about the newest Halloween treat are any indication. One commenter wrote on Junk Food Mom's post, "Candy corn is nasty enough so now your to [sic] try and throw us off with this....imma still try it thou [sic]." Another interested candy connoisseur shared, "so...I had to think about this for a day. Until I just got home and read the bag AND description I was on board. But now I have that lingering smell of candy corn and my mouth is watering in a bad way."
Over on Junk Batner's post one person noted, "I know this is kinda sacrilegious but it also looks kinda delicious." Another simply wondered, "Do we love them or hate them???"
It's safe to say that people are torn about these two foods colliding. Unfortunately, the only way you can decide if you love them or hate them is by trying them. Considering that they're available right now, you have plenty of time to make your verdict before pumpkin season. A few bloggers tried them out at Dollar General, but a Frankford Candy representative reportedly told Refinery 29 that the Sour Patch and Candy Corn will be available at Walgreens, CVS, BJ's Wholesale Club, Dollar Tree, Family Dollar, Dollar General, Meijer, Kroger, and Safeway from September through Oct. 31.
Basically, you're going to start seeing the Sour Patch Kids Candy Corn flavor everywhere, and I wouldn't be surprised if they're cropping up in candy baskets when Halloween night comes around.
Considering that my biggest problem with candy corn has always been its soft, almost wax-like texture, I'm a little apprehensive about this Halloween hybrid, even with the dusting of Sour Patch deliciousness. Still, would Halloween even be Halloween without candy corn? Who knows? The Candy Corn Sour Patch Kids could become your new favorite candy of the fall season.