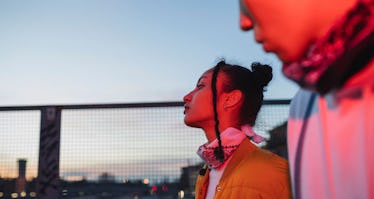 Here's Why Each Zodiac Sign Would Stay With Their Partner Long After The Spark Dies
Relationships take a whole lot of dedication, time, and effort. So, it makes sense that even when a spark dies down, you most likely won't want to abandon your initial connection. Having a "spark" in your relationship is something that may ebb and flow as time goes on, and if the flame has died down a bit, you may still be holding out for it to return. Different people can all have their own reasons for staying in relationships. Figuring out why you avoid breakups, based on your zodiac sign, may bring you some much-needed clarity.
I know that for me, a truly quintessential Scorpio, I stayed in a relationship way past its expiration date because I felt truly bonded to the person I was with. We had been through years and years of ups and downs together, and even during the "down" part of that equation, I still wanted to ride it out. Scorpios tend to have a smaller, more tightly-knit circle, and letting go of one person can be extremely difficult. In ending that relationship, I really lost someone I trusted, valued, and cared for in my life.
But Scorpios aren't the only sign in the zodiac. There are 11 other ones out there, so read on for the full list of why you stay in a relationship, based on your zodiac sign.