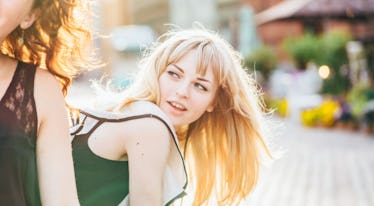 A Doctor Explains Why We're Attracted To Some People But Not Others, & It's Pretty Simple
Have you ever wondered why you've been attracted to tall people your whole life? Or maybe you just noticed a pattern in your dating history — say, the majority of your exes were super extroverted, or they all had dark hair and brown eyes. It might seem like a weird coincidence, but really, it all makes sense when you think about the science behind why we're attracted to some people but not others.
I reached out to Dr. Michele Kerulis of Counseling@Northwestern to find out more about the science behind who we are — and are not — attracted to, and what factors go into attraction in the first place. And as she explains, a lot of attraction is psychological.
"If we look at biological factors and go back to Darwinism, we look at survival of the fittest and species goals to mate in order to stay protected and to have their offspring live on, so that's the basic [biology]," Dr. Kerulis tells Elite Daily. "But I think people tend to get very interested in the psychological aspect of it, in terms of why is it that we might have that really strong attraction to a specific individual?"
As it turns out, a lot of factors go into what people find attractive in terms of romantic partners, and while sometimes your attractions are formed over time based on the people you date and your experiences with them, other times, attraction goes all the way back to when you were a kid. So, here's what you need to know about the science behind attraction.