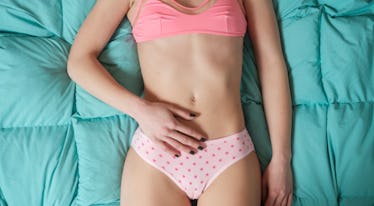 A Doctor Explains Why Sex Can Be Painful Sometimes, & It Makes So Much Sense
Sex is so often depicted in movies and on TV as this hot, magical thing that always goes well for all parties involved. Everyone finishes at the same time in the same way (seriously?!), and no one seems to worry about things that real people have to deal with when they hook up IRL, like why sex can be painful sometimes.
To get more insight into why some people experience pain during sex, I reached out to Rachel Gelman, DPT, branch director of the San Francisco Pelvic Health and Rehabilitation Center. And first thing's first: If you are feeling pain during sex, you're not alone.
"I always want people to know that they are not alone," Gelman tells Elite Daily. "It is estimated that 75 percent of women will experience pain with sex at some point in their life."
So, what are some of the reasons sex can be painful, and how do you deal with it if it happens to you? The answer is that there are multiple things that can cause pain during sex, and any combination of these factors is a possibility, too — which means dealing with it varies from person to person. But regardless of the cause, the good news is that there are plenty of ways you can still enjoy having sex. Here's what you need to know.