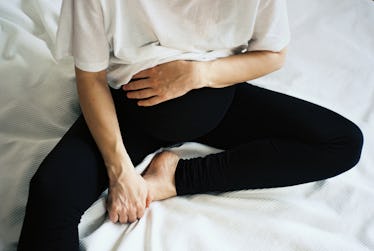 These 6 Red Flags May Mean You Have PCOS, So Here's What You Should Do
A woman's menstrual cycle really is a beautiful thing; it's when your hormones start acting up that it can become unsettling. There are so many factors that affect your period, too: social stressors, rampant hormones, ravenous cravings that are never satisfied with just one bite. It can be hard to decipher when a physical ailment around that time of the month is your period misbehaving, or a sign of something more serious, which is why you should be aware of PCOS red flags so that when the going gets a little too rough, you can get the help you need.
In case you're unfamiliar with the abbreviation, PCOS stands for polycystic ovarian syndrome. Mayo Clinic defines PCOS as a hormonal disorder that affects a woman's reproductive system, causing cysts to form on the ovaries. Women who have PCOS generally have an erratic menstrual cycle, or lose their period altogether, making it difficult to get pregnant. Unfortunately, experts have yet to narrow down the root cause for PCOS development, and there is currently no known cure. However, there are some clear signs in your body that may point to PCOS, so it's important to familiarize yourself with them in order to get the proper treatment.
According to Dr. Hedieh Asadi, co-founder of DeoDoc Intimate Skincare, and Dr. Gunvor Ekman Ordeberg, OBGYN and medical advisor to DeoDoc Intimate Skincare, PCOS symptoms are generally easy to recognize. The cysts, however, the experts tell Elite Daily, can "only be seen during an ultrasound examination," so it's even more crucial for you to know what sort of things to look out for. Here are the biggest red flags of PCOS to be aware of.