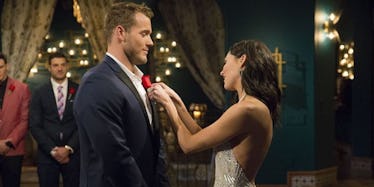 This Theory About Why Becca Let Colton Stay After Dating Tia Makes So Much Sense
ABC/Paul Hebert
We witnessed one of the most awkward group dates in history Monday night. The Bachelorette Becca Kufrin invited her friends from her stint on The Bachelor to tag along on a spa-themed group date with several of her suitors. One of the women who joined on in the fun? Tia Booth: Becca's friend, a top four contestant on Arie Luyendyk Jr.'s season, who previously dated one of the men on Becca's group date, Colton Underwood. With all the weirdness surrounding his history with her friend, one could wonder why Becca Kufrin let Colton Underwood stay on The Bachelorette.
When former NFL star Colton told Becca about his past with Tia during episode two last week, Becca (rightfully) had some reservations, and told him she needed time to process the situation. This week, during episode three, Becca sat down with Tia to hear her side of the story. Tia claimed that her and Colton began flirting on Instagram and got together for a weekend in January. At that point, Colton was in the casting process for the upcoming season of The Bachelorette, and Tia said that Colton "probably – possibly" knew Tia could be the lead.
Basically, the story doesn't completely add up. Why would Colton and Tia start up something before her possibly being the lead of a season on which he could be a contestant? Why didn't they go public with their relationship earlier? But despite Colton's involuntary smile as Becca introduced Tia to the group, and the obvious tension in the air upon seeing an "ex," Becca gave Colton the group date rose.
I spoke with Kailen Rosenberg, celebrity love architect and elite matchmaker, to gain insight into why Becca might want Colton to stay, especially since Colton's intentions with Tia and Becca weren't really made clear (at least not to Bachelor Nation — it's very possible there was more to the story that didn't make it to air).
"It means that she truly feels safe with him, most importantly, that she is healing," Rosenberg tells Elite Daily. "It means that she has a strong enough sense of self-identity and self-esteem to know that she can trust what she feels, even after what she went through with Arie."
As for the Tia aspect of the situation, Rosenberg predicts that since Colton and Tia didn't have a serious, long-term connection, Becca can comfortably pursue a potential relationship with Colton without sacrificing her friendship with Tia.
"Tia made it clear they just kissed, and Colton let Tia know that he applied for The Bachelorette, which is an interesting way of saying 'I'm not that into you,'" Rosenberg said. But, remember, Colton knew Tia was a likely candidate for the lead role. Maybe he wanted to get a jump start on the competition.
Rosenberg says that Becca listening to both sides of the story shows maturity. "Becca was smart enough to listen with true emotional intelligence to their responses and most importantly, trust her inner voice and honor the healing she's done," Rosenberg says. "There's a lot to learn from Becca and she's showing the ability to honor her values, integrity, and boundaries during her journey in love."
And if Becca can look past this sticky situation, it must mean she is developing some sort of feelings for Colton. Otherwise, why else deal with drama?
"She's starting to fall for him, even though I saw a little fear in her, but she can trust what he's saying, and her soul knows it," Rosenberg says. "Based on his eye contact and mannerisms it was the right choice to keep him there – there's some real potential there for them."
Even if you aren't totally on board with Colton just yet and believe he needs to prove that he's interested in Becca, the person, not Becca, the Bachelorette, it's clear that Becca sees something in him. Plain and simple. She knows him a hell of a lot better than any of us viewers, so I guess we'll just have to see how this journey continues.
Check out the entire Gen Why series and other videos on Facebook and the Bustle app across Apple TV, Roku, and Amazon Fire TV.
Check out the "Best of Elite Daily" stream in the Bustle App for more stories just like this!