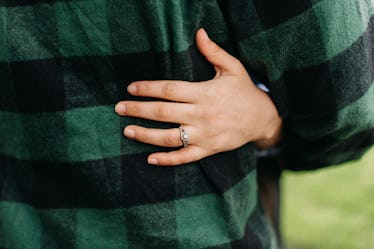 6 Places To Shop For Engagement Rings That Aren't Tiffany & Co.
If you're putting together your wish list for this holiday season and considering letting your boyfriend or girlfriend know that you'd like your ring finger to be a bit bling-ier, you might be wondering where to shop. Of course, there's the tried-and-true (and baby blue) option, but there are plenty of other places to shop for engagement rings besides Tiffany & Co. After all, not only is Tiffany & Co. most likely going to take a bite out of your wallet, it also just might simply be not your style.
From vintage shops to custom-made pieces to family heirlooms, the options for engagement rings are endless. I have friends with gorgeous blue sapphire rocks (not Kate Middleton, even though we are BFFs in my mind), and some with simple white diamond eternity bands. One of my dear dude friends even proposed to his now-wife with a pair of diamond stud earrings, so that she could go and choose her own ring. (Swoon alert!) Even Amazon and Costco have incredibly wide selections of rocks for you or your bethrothed to... rock!
While a lot of elements of proposing, being engaged, and planning a wedding can be overwhelming, hopefully this guide of places to buy the ring might help make that #engagedlife a little easier.