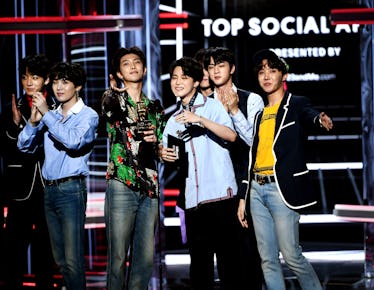 Here's How To See 'Burn The Stage' If You Live In The United States
Kevin Winter/Getty Images Entertainment/Getty Images
Did you score your tickets to see BTS' first-ever feature film yet? If not, you better get ready to pounce on them ASAP. Because Burn the Stage: The Movie hits theaters on Nov. 15, which means Jungkook, Jimin, V, Suga, RM, Jin, and J-Hope are about to make their debut on the big screen worldwide, and you just know the ARMY is going to come through for this thing. I mean, these guys are straight fire and it's all just so exciting. So, if you're now wondering where to see Burn The Stage if you're in the U.S., lemme just take a minute to reassure you that the answer to that question is fairly simple, since the movie is legit showing just about everywhere.
Like I said, the in-depth documentary — which was filmed during the band's 2017 Live Trilogy Episode III: The Wings Tour — will hit select theaters worldwide on Nov. 15. And yes, that includes here in the good old U. S. of A. But screenings are limited, you guys, so not every theater will have tickets available for sale. Which means you're gonna want to act fast if you don't want to be left scrambling. This is the first-ever BTS movie being released in theaters internationally, and it's got all kinds of cool behind-the-scenes stuff from the K-pop boys' Wings tour, so you def don't want to miss out.
To find out which theaters in your area are screening the film, you can visit the official Burn the Stage website and view a map that highlights all the places that will be playing Burn The Stage nearby. You can also search surrounding areas for participating theaters, and then buy your tickets directly from the website — and you can do that right this very second, which means no camping out or waiting in long lines! It's 2018, bruh!
So major! Just click on the "Get Tickets" button on your theater of choice and you'll be directed to the official website to purchase. I mean, talk about zero hassle!
Oh, and did I mention that the trailer for Burn the Stage dropped on Oct. 23? And that it's already got over 2 million views and climbing? So yeah, I think it's safe to say these guys are legit having a moment.
Check it out:
I mean, could they be any cuter? And don't worry, there's a version of this thing with English subtitles out there, too.
Burn the Stage: The Movie was directed by Park Jun Foo, and was built off the YouTube series of the same name that launched back in March 2018. Not only will fans get to see concert footage and all that awesome behind-the-scenes stuff from the BTS world tour, but there will also reportedly be a bunch of never-before-seen interviews from members Jungkook, V, Jimin, RM, Suga, J-Hope, and Jin.
Honestly, this film sounds like the best gift for BTS fans ever. So if you want to see these guys Burn The Stage, go get your tix now before they sell out!