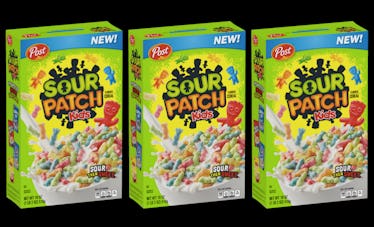 Sour Patch Kids Cereal Is Coming To Give You A Sour (& Then Sweet) Breakfast
Courtesy of Post
Candy for breakfast, anyone? Well, not really. I'm talking about the new Sour Patch Kids-flavored cereal that's about to hit the market. In case you haven't already heard, Post Consumer Brands is releasing a brand new cereal that's inspired by those sour-then-sweet gummy "kids" that you know and love. If you're excited for the candy-flavored breakfast treat, then you're probably wondering where to get Sour Patch Kids cereal. Thankfully, they'll be pretty easy to purchase — so make room in your pantry.
Those of you who live by a Walmart store are in luck, because you'll have easy access to the Sour Patch Kids cereal when it becomes available. According to a press release provided to Elite Daily, the cereal will be sold at Walmart stores beginning on Dec. 26, 2018. In other words, Walmart shoppers will have the chance to purchase a box just in time for the new year. (Talk about a sweet way to kick off 2019, am I right?) If you don't live by a Walmart, rest assured that the product will become available in June 2019 at major retailers across the country, per Post. With that being said, Sour Patch Kid fans across the nation should have access to a box of the cereal by the time summer 2019 comes around.
If you aren't totally sold on the Sour Patch Kids cereal, let me tell you a little bit more about it. According to Post, the "sour-then-sweet" treat has a "sour coating and a sweet finish," similar to the original gummy candy. Plus, each piece of cereal is shaped as a "kid," which makes the breakfast treat look almost identical to the real deal. Not to mention, the pieces are colored just like real Sour Patch Kids, which makes the similarities even more uncanny. Heck, if you swapped a bowl of Sour Patch Kids cereal for a bowl of real Sour Patch Kids, I probably wouldn't even recognize the difference.
I think that's definitely something an actual Sour Patch Kid would do, though. Those guys are tricky.
Now that you know a little bit more about how the Sour Patch Kids cereal tastes, you're probably planning on buying a few boxes when they become available in December. If that's the case, you should set aside $3.98 per box, according to Post. I don't know about you, but I'd totally spend less than $4 for a cereal that tastes like one of my favorite candies.
Speaking of candy-flavored cereal, this isn't the only sweet breakfast food that Post has released. In fact, the company has also unveiled cereal that tastes like Oreo O's, Chips Ahoy!, and Nutter Butter cookies in the past. In other words, Post is making it totally possible to start your morning on a sweet note — whether you choose candy-flavored cereal or cookie-inspired bites.
If you choose the candy-flavored cereal, though, you can purchase a box of Sour Patch Kids cereal at Walmart stores beginning on Dec. 26, 2018. In the meantime, go ahead and give the cookie-flavored Post cereals a taste.