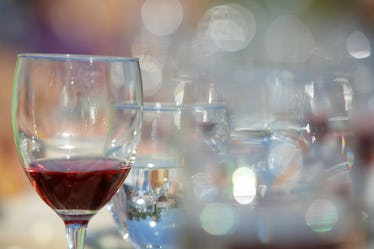 Pumpkin Wine Is Apparently A Thing & Fall Can't Come Fast Enough
Brent Stirton/Getty Images News/Getty Images
Tired of boring old red or white wines? Well, a Wisconsin winery has created a miracle drink with your name on it: pumpkin wine. If you're already sold at the mere mention of the drink and are wondering where to buy a bottle or two, I have you covered. Here's where to get pumpkin wine, so you can have all the fall vibes early on.
The pumpkin wine, sold by Wisconsin's Three Lakes Winery, is created from only pie pumpkins, so the beverage itself will likely have light-bodied, yet sweet and smooth bursts of flavor. Not only is that the perfect excuse to ditch the fruity concoctions you've been slurping down this summer, but to also break out all those fun Halloween movies and cozy sweaters that are (unfortunately) reserved for fall. (!!!)
The bottles of wine are sold at the winery's location in Three Lakes, Wisconsin. However, if you're not able to make the trek over to the winery, it even allows you to order bottles through its website for your own convenience. The only catch is that it can't ship to certain states, including Alabama, Arkansas, Delaware, Kentucky, Mississippi, Oklahoma, Rhode Island, Utah and Vermont, due to government regulations. Sorry, guys.
Not in those states, and over 21? Great! Then you'll be pleased to learn that the festive beverage costs just $12.95, and sale prices can be even cheaper. Even better? It was recently added to its menu as a year-round option for customers, so you (we) can enjoy it for the rest of time.
"This wine has become so popular we sell it year-round," the winery explained in a Facebook post on July 7. The post continued on to convince me I need this right away:
With similar qualities of a traditional Chardonnay, this smooth, semi-sweet wine is a surprising crowd pleaser. Being the first to perfect making wine from pumpkins years ago, we have yet to discover another pumpkin wine - it IS actually made only from pie pumpkins.
Between that description and that pic, I think I can already taste how yummy and refreshing this wine might be. Fall needs to hurry up, because at this point, I'm ready to indulge in all kinds of pumpkin-flavored treats. I'm talking pumpkin candy, cookies, pizza, candles... whatever! Bring. It. ON.
But if you're somehow not feeling this pumpkin wine idea, and are enjoying all the summer drinks that have been rolling out instead, you might find some alcoholic push pops a bit more ideal for your taste. The boozy pops are sold by a Las Vegas-based company called Buzz Pop Cocktails, and are made with liquor-infused Italian sorbet. The liquor options include vodka, rum, tequila, or whiskey, depending on the flavor you prefer. Customers have the option of eight different flavors, including Mango Passion Fruit, Caribbean Breeze, Moscow Mule, Pink Paradise, Southern Belle, Blueberry Mania, Watermelon Patch, and Lemon Drop Martini. Not to mention, they're also vegan, gluten, fat-free, under 100 calories, and can be delivered right to your doorstep if you order from the website. TBH, they're perfect treats to bring to a chill kickback with friends, or to a fun barbecue — without worrying about how you'll feel the next day.
No matter what option you decide to go with, you really can't lose. But I'd go ahead and order mine now if I were you because, considering how tasty these sound, you never know if or when they're gonna sell out. (Only if you're over the legal drinking age, of course.)
Cheers!