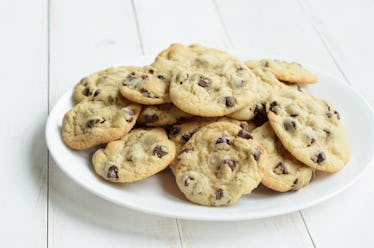 You Can Get Free Chocolate Chip Cookies Today For National Chocolate Chip Day
If you love chocolate chips, then today is shaping up to be a good day for you. Across the country, bakeries, gas stations, and restaurants are celebrating National Chocolate Chip Day — which occurs on May 15 — with a handful of sweet deals for you to take advantage of. Nothing quite says comfort food like a freshly baked chocolate chip cookie. You know, the ones that have that fresh-out-the-oven-baked-by-mom taste. Give your tummy a treat and celebrate with free chocolate chip cookies on National Chocolate Chip Day.
The cocoa morsels have made their way into hearts (and mouths) to create one of the most popular and beloved cookies of all time: the chocolate chip cookie. Like all good recipes, chocolate chip cookies were created by accident, or so the story goes. According to Business Insider, Ruth Graves Wakefield, owner and operator of the Toll House restaurant in Massachusetts, invented a version of the chocolate chip cookie sometime in the '30s. If Toll House sounds familiar to you, then you are onto something. Wakefield went to make a batch of her Chocolate Butter Drop Do cookies, but was out of her usual bakers chocolate she needed for the recipe. So, Wakefield chopped up a bar of Nestlé semi-sweet chocolate and voilà, the chocolate chip cookie was born. The recipe was sold to Nestlé in March 1939, and that's how the Toll House cookie brand — and the chocolate chip cookie — came to be.
Here is where you can find the best cookie deals to celebrate National Chocolate Chip Day.