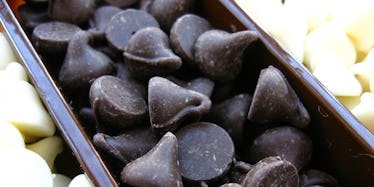 It's National Chocolate Chip Day: Here Are 7 Ways To Celebrate The Sweetness
Getty Images
Though May usually kickstarts our longing for summer vacation with Memorial Day Weekend, there's another important holiday this month that simply cannot go unnoticed: National Chocolate Chip Day.
You heard that right, chocolate lovers. It's the nationally-recognized event you probably didn't realize existed, but now that you've been enlightened, it's only right to celebrate the sweet May 15 holiday.
I'm personally the kind of lady who loves all forms of chocolate — just ask my roommate. The second she left for her Vegas vacation, I demolished her bag of Nestle chips within a few days (don't worry, I replenished).
Whether they're fresh out of the bag or placed in a sweet cookie, chocolate chips are the best way to get a tasty fix.
So, in honor of National Chocolate Chip Day, here are seven ways you can pay homage to the chocolatey treat.
1. Get ready for summer.
We know you're pumped for the warm weather, and we definitely can't blame you.
Grab some graham crackers, marshmallows and of course, chocolate chips and make some s'mores. It'll surely feel like summer in May.
2. Visit your local chocolate shops.
No location is complete without a quaint candy store, so make sure you take a stroll up your town's Main Street for a serving of chocolatey goodness.
Whether you're in New York, LA, Chicago, Nashville or Austin, I guarantee there's a place for you.
3. Enjoy some fondue.
Grab your favorite fruits, melt some chocolate chips and dip to your heart's delight.
What better way to mix healthy and tasty treats, right?
4. Add a little booze.
For those who are 21+, there is an adult way to celebrate National Chocolate Chip Day.
If you're in New York City, take a trip over to East 26th Street and enjoy a snack at Tipsy Scoop, the shop with liquor-infused ice cream (their Spiked Mint Chocolate Chip is delicious).
Fear not — if you aren't in New York, you can always get a pint here.
5. Get in the kitchen.
There's nothing quite like a homemade chocolate chip cookie, right?
If you're feeling inspired by the holiday and need some dessert after your dinner, try one of these recipes here.
6. Watch a classic.
Whether it's "Charlie and the Chocolate Factory," "Chocolat," or even the classic "I Love Lucy" episode where Lucy and Ethel can't keep up with their new job, these contenders are perfect for a night in on the couch with your favorite dessert at hand (dessert at hand required).
7. Take a chocolatey trip... or a chocolate-making class.
New Yorkers with a sweet tooth will be delighted to know Jacques Torres' Choco-Story New York is the first museum of its kind and located on Hudson Street. If that's not worth a subway ride, I don't know what is.
Visit Course Horse to find out where you can take chocolate-making classes near you (I'm sure I'd get an "A" in that class).
If you're in a planning mood, mark your calendar for a chocolate fest in your hometown.
As you can see, there is no shortage to how to celebrate National Chocolate Chip Day.
Regardless of what you choose, I'm sure you're in for a sweet treat. Enjoy!