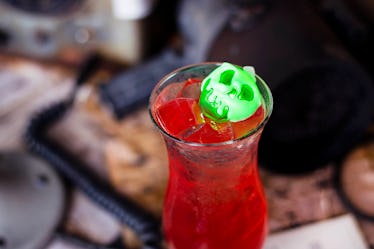 Disney World's Halloween Cocktails Inspired By The Poison Apple Look Scary Good
Courtesy of Disney
The Magic Kingdom is giving a few of its cocktails the spooky treatment just in time for Halloween, and it's safe to say that Mickey has taught his mixology wizards well when it comes to getting us all in the mood for the scariest time of the year. Inspired by the poison apple from Walt Disney classic Snow White, the potions promise an array of delicious flavors and cool color hues that you'll definitely be tempted to bit into. So, here's where to get Disney World's Halloween cocktails, because these spooky sips are all treat and no trick, no everlasting sleep required.
On Monday, Sept. 17, Disney Springs (aka Disney World's revamped version of Downtown Disney) revealed via Twitter that they'd bottled some fall-infused flavors and just a bit of pixie dust to concoct some of the best Halloween cocktails I've seen from the theme park this season. The Forbidden Apple and the Autumn Smash, as they've come to be called, are now being brewed at Jock Lindsay's Hangar Bar. Inspired by the Indiana Jones franchise (its moniker stems from Jones' sidekick and pilot in the films), the whimsical space is a pilot's dream with 1940s-era airplane parts hanging from its walls, maps that are sure to inspire plenty of wanderlust, and a full bar.
So, with the spookiest time of the year just around the corner, Mickey's cocktail scientists are channeling their inner Disney villain with the Forbidden Apple, an alcohol-free version called the Poison-less Mocktail, and the Autumn Smash.
According to a Disney rep, the Autumn Smash features "Captain Morgan Rum, lemon juice, peach nectar, simple syrup, and a touch of cinnamon," which basically sounds like fall deliciousness in a cup. Meanwhile, the poison apple brews unsurprisingly feature apple notes and are probably the sweeter choice, so I'd keep your preferences in mind when ordering your cocktail.
The Forbidden Apple sounds perfectly boozy with a potent mix of "Captain Morgan Rum, sour apple pucker, Fireball Cinnamon Whiskey, cranberry juice, lime juice, and grenadine." The alcohol-free version is crafted with Sprite caramel and Granny Smith apple, and then topped off with a glowing Poison Apple cube.
While the neon green and deep red coloring is pretty eerie in themselves, you can up the scary factor by crowning your drink with poison apple glow cubes, which happen to be just $4 more with the purchase of any drink at Jock Lindsay's Hangar Bar. According to Instagram blogger Demisiriusly, they only come in green, so I'd get ready to stir some glowing green skulls into your cauldron and see if you don't start cackling like a Disney witch (maybe that's just me).
While the themed concoctions are definitely bound to give you all the Halloween feelings, Disney World is extending the scary festivities past Oct. 31. So, hang up your Disney princess crown and have some fun with it. According to a Disney rep, all three potions will be available until Nov. 7, so you technically have a few months to sample the mixologists' experiments. Why not use your sips to wash down the Magic Kingdom's very magical array of Halloween theme park treats, including a Nightmare Before Christmas waffle sundae, Maleficent Soft Serve, or even a Not-So-Poison Apple cupcake? From the looks of it, your taste buds will be completely spellbound.