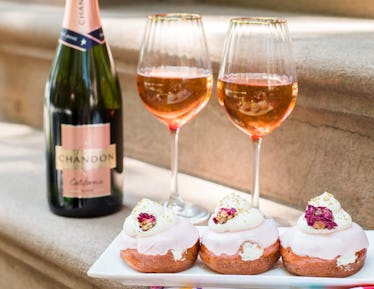 Sparkling Rosé Doughnuts Exist & They're Almost Too Pretty To Eat
The Doughnut Project
Summer is a super exciting time for a multitude of reasons. Beach trips, picnics in the park, rooftop happy hours, and BBQs are just a few fun things to look forward to. But one of my absolute favorite parts of summer is the nonstop flow of rosé, and, most importantly, all of the different rosé-flavored treats. However, one rosé-flavored treat that I'm dying to try this summer is a rosé-infused doughnut. If you're wondering where to buy Chandon's Sparkling Rosé Doughnuts, stay tuned. I can barely contain my excitement, and luckily, they'll be available super soon (just in time for National Rosé Day). I am hyped beyond belief.
Starting on Friday, June 8 at 8 a.m. ET, famous West Village doughnut shop, The Doughnut Project, will be selling Chandon California Sparkling Rosé-infused doughnuts, according to a press release. The shop, located at 10 Morton Street in New York City, calls the creation the "ChanDONUT." It's made with Chandon Rosé Hued Dough, Chandon Rosé Cream Filling, Chandon Rosé Glaze, and even Chandon Rosé Butter Cream (uh, OK, yum?!). It'll be topped with gold dust, as well as edible rose petals, and let me tell you: It's as gorgeous as it sounds. This delightful bite will be available until until Sunday, June 10 at 6 p.m. ET (or until it sells out), so do-nut get in my way; I'm heading there as speedily as possible.
Seriously, just look at them! Not buying out the entire shop will require some major self control.
According to the press release, each ChanDONUT will only cost you a mere $4.75, but the first 25 customers to get in line on that Friday, Saturday, and Sunday will receive one for free. Stuffing as many of these into my body as possible is quite honestly mandatory, so I'll be there every day I can. I mean, really, it's in honor of my number one favorite holiday, so how could I resist? I'll see you there, bright and early!
OK, don't get me wrong — I'm incredibly stoked about the release of this doughnut. But, I have a lot of planning to do. I mean, am I going to eat this glorious creation for breakfast? Or am I going to scarf it down as a dessert after dinner? Will I pair it with coffee, or should I wash it down with rosé? I think the best answer lies within the mantra, "Rosé All Day." This way, I can eat this rosé-infused doughnut at any hour of the day and not feel weird about it. It's as easy as that.
This isn't the first time The Doughnut Project has come through with a wildly delicious wine-flavored doughnut. Earlier in May 2018, they came out with The Cavit Pinot Grigio Doughnut, which was made in collaboration with popular wine brand, Cavit. Each Pinot-flavored doughnut was baked with a decadent cheesecake filling, smothered in a Cavit Pinot Grigio glaze, and sprinkled with Pinot Grigio meringue, in addition to gold "bling." It was yet another glamorous and delicious wine-flavored doughnut, and all I can do at this point is bow down to The Doughnut Project. How do I even deserve these magical creations?
There are a lot of ways to celebrate National Rosé Day this year, but I'm probably most excited about getting my hands on a sparkling rosé ChanDONUT. I'll definitely be eating these pastries for every meal of the day, and you'd better bet I'll be licking up every last visible crumb. It sounds like a pink wine-lover's dream come true, and it's undoubtedly going to be the highlight of my rosé-filled summer.