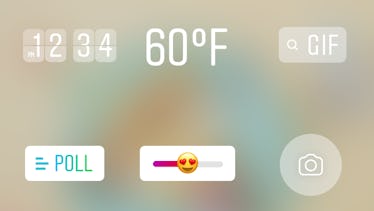 Instagram's New Emoji Slider Can Be Found In A Familiar Section Of The App
Instagram Stories have been around for almost two years now, and it seems like the features just keep getting better. Not only can you share fun photos and videos with your followers, but you can add all kinds of effects and filters to really make your Stories stand out among the rest. Recently, Instagram introduced another new feature to punch up your Stories. Here's where to find Instagram's emoji slider poll to help take your Stories to a whole new level.
Now, you're probably familiar with using the original poll sticker to ask your 'Gram followers if they like different foods or if they're feeling "thumbs up" or "thumbs down" about your happy hour spicy margarita. If you're totally into the polling sticker, then you'll love the new emoji slider poll. According to Instagram, you can find the emoji slider poll in the sticker tray when you're in Stories.
Seriously, it's so easy to add the emoji sticker poll to your Story. First, make sure you've updated your Instagram app, because the emoji sticker poll was made available in an update released on May 10 to the App Store and Google Play. Once you've updated, go to the camera in the app, take a photo or video, and then choose the emoji slider poll from the sticker tray to add it to your Story. Then, you can start asking all the questions your Instagram-loving heart desires.
The emoji slider poll is different from the OG Instagram poll sticker in that you can ask more "nuanced" questions, according to Instagram. Given that the responses to an emoji slider poll are recorded on a sliding scale, you can glean exactly how much your followers agree or really like something. They have more options than a simple "yes" or "no." You might even find that more people are willing to participate in an emoji slider poll because they'll be able to give a more honest answer about where their opinion really lands on the scale. OK, I can't promise a huge jump in poll participation numbers, but I'll definitely stop and slide an emoji when I come across the emoji slider poll in my friends' Stories.
Plus, it's more interactive than when your besties on the 'Gram come across a simple two-answer option poll. When your followers participate in the emoji slider poll, the emoji animates as they slide it up and down the scale to decide where the most accurate location is for their opinion on, say, pizza preferences.
Again, it's super simple to find and use the emoji slider poll. If you've been getting a lot of use out of the original poll sticker, you'll find the slider poll right there next to it in your sticker tray. Oh, and you have your pick from almost any emoji in your keyboard when you are crafting your emoji slider poll question. So, instead of simply asking if your Instagram squad thinks something is funny, you can use the laughing-crying emoji to find out just how hilarious they think your curation of GIF stickers in your Story truly is.
If you're at a loss for an emoji slider poll question, you can always bring it back to food. When your followers give you their thoughts about their love for tasty bites (like pizza, duh), they'll see the current average of how other people responded to the poll. As for full results, you'll see them in your Stories similar to how you view regular poll results, but the emoji slider poll will show you the average answer on the scale with all the responses recorded.
The emoji slider poll is a fun and interactive way to keep up with your friends' Stories. Keeping up with Stories isn't all that hard, but I do sometimes find it difficult to keep the content coming on my own Instagram Story. It can be hard to constantly snap pics and shoot video in the moment. Thankfully, you can add photos and videos to your Story that were perviously taken.
Even better news is that Instagram announced in the beginning of 2018 that you can add different sized photos to your Story without having to crop them. I am the queen of hoarding photos and forgetting about them, so it's good to know that you can upload them to your Story at any time and finally let them see the light of day. With the addition of the emoji slider poll, you can also find out what your followers really think about some of your throwback photos on your Story. Spoiler alert: They'll totally dig 'em.