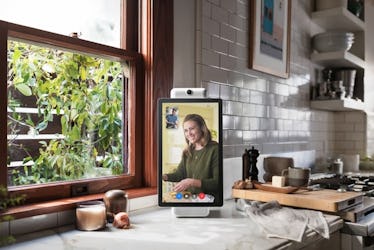 Here's Where You Can Buy The New Facebook Portal For Totally Upgraded Video Chats
Courtesy of Facebook
By now, you've most likely heard a thing or two about The Facebook Portal — it's a new device used for making high quality video calls. With its wide angle camera and a detector that ensures everyone stays within the frame, the Portal makes each and every long-distance video chat way more lifelike than ever before. It sounds pretty sweet, doesn't it? And since it's finally about to be available for the first time ever, there's a good chance you're wondering where to buy the Facebook Portal. So, get ready, because buying one is easy peasy.
If you're down to start making some epic video chats left and right, the Facebook Portal will officially be available for all of your long-distance needs as of November 2018, according to the Facebook Portal website. You can preorder one for yourself ahead of the November release. Simply go to the Facebook Portal website, the Best Buy website, or Amazon. Once the Portal is in stores, you can also visit Best Buy or Amazon Bookstore locations to purchase one, according to Facebook. The Portal costs $199, and the larger Portal+ will cost you $349.
While both of these glorious devices are a little on the pricier side, you can get $100 off a purchase of two Portal devices, according to Portal's website. Presumably, one would be for you, and the other would be for your long-distance pal. So, it's actually a pretty good deal if you really think about it.
If you're wondering what the Facebook Portal is, it's essentially a camera, video screen, and microphone all in one. You can hook it up in any room you'd like, and it makes video calls with a wide-angle camera, so you don't need to aim it at yourself. It follows you as you move and make your way around the room, and it picks up on everyone in the shot, ensuring they stay in the frame for the entire time. You can only use it to call other Portal, Facebook, and Facebook Messenger users, which is why buying two makes sense. It's definitely worth the price, if you want to get in on some really high quality video chats.
Even though the Facebook Portal definitely helps make a long distance relationship way more bearable, living far away from your loved ones can be really, really tough. It can feel completely isolating, and hard to talk about with others, but trust me — you aren't alone. In fact, these tweets about long distance relationships will definitely make you feel otherwise. Between that hilarious LDR check-list, and the tenancy to forget about self-care, Twitter knows all about long distance relationships. It's a super relatable situation that most people have endured, at some point or another.
The Facebook Portal is coming out soon, and it can easily be pre-ordered online. Whether you decide to pre-order it via Facebook Portal's website or on Best Buy the world is your oyster. Be prepared for some of the most epic video chats of all time, because you're literally going to feel like all of your long distance BFFs are in the same room as you, at long last.