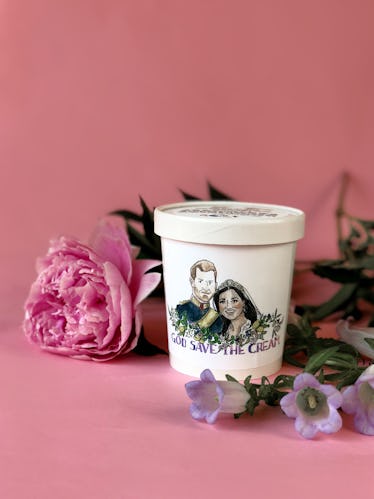 This Royal Ice Cream Is The Perfect Post-Wedding Dessert & It Looks So Sweet
Ever since Meghan Markle and Prince Harry announced their engagement, many people have been excitedly awaiting the couple's spring nuptials. Time must really fly when you're royal wedding watching, because the wedding is already happening on May 19, 2018. As you prepare for your wedding watch party, you're likely trying to finalize your menu. One company has created the perfect celebratory sweet treat for dessert. Here's where to buy Ample Hills' royal ice cream flavor, aptly named "God Save the Cream."
If you're like me, you probably want to buy this ice cream for the pun alone. You'll quickly realize that "God Save the Cream" is so much more than an amusing play on words. This limited-edition ice cream from Brooklyn-based Ample Hills Creamery is all about capturing that royal-wedding feeling when it comes to the delicious flavor. With heavy nods to Prince Harry's hair color (thanks to ginger ice cream) and the couple's wedding cake flavor, "God Save the Cream" features a base of lemon-ginger ice cream and house-made pieces of elderflower wedding cake with buttercream frosting.
Per Ample Hills, the delicious limited-time flavor is available in Ample Hills scoop shops beginning on Monday, May 14, and you can have it shipped nationwide when you order it online exclusively at the Ample Hills website.
When you order online, you'll get two pints of "God Save the Cream" in the "Keep Calm and Berry On" four-pack of pints for $36. You can also add "God Save the Cream" to your "Choose Your Own Story" four-pack of ice cream pints for $36. With tasty ice cream and all the puns, what more could you want?
Well, you'll also get a make-your-own paper ice cream crown when you order a four-pack of the frozen stuff. It might not be an exact replica of Queen Elizabeth's royal topper, but you will definitely look festive as you enjoy a scoop (or two) of "God Save the Cream."
So, how did this yummy royal flavor come about? According to Brian Smith, co-founder of Ample Hills, the company held an Instagram contest to have their fans help "co-create a flavor to celebrate the royal wedding." "God Save the Cream" is a collaboration of the top flavor suggestions, and the name comes courtesy of polling the Ample Hills employees to see which name they liked best. Props to the "Amployees" (as they're called) for giving you the royal wedding pun you've been waiting for.
And when it comes to the taste of this royal flavor, you know you're getting the very best. As Smith explains, their culinary team has a crew dedicated to the ice cream and another team responsible for the bakery. For "God Save the Cream," they went through two different cake recipes to land on the winning cake with "just the right amount of elderflower flavor."
OK, this ice cream seriously sounds good enough to make me consider getting up at the crack of dawn to watch the royal wedding live. Thankfully, royal-wedding viewing isn't required to enjoy a scoop of "God Save the Cream." I wouldn't wait too long to get to an Ample Hills shop or order online, because "God Save the Cream" is only available "for a short window surrounding the royal wedding," according to Smith.
If you really want a slice of cake to go with your ice cream, there has been a tradition of royal wedding cake slices sent in the mail to guests who couldn't make the big day or who were (sadly) not invited. Claire Ptak, owner of London-based Violet Cakes, will bake the lemon elderflower spongecake covered in buttercream for Markle and Prince Harry's wedding celebration. Unfortunately, their wedding cake of choice probably won't hold up as a parcel in the mail, but you can get a similar flavor experience with a pint of Ample Hills' "God Save the Cream."
Seeing as the royal wedding is quickly approaching, I'd play the role of royal taste-tester at Ample Hills Creamery ASAP to get your hands on some "God Save the Cream."