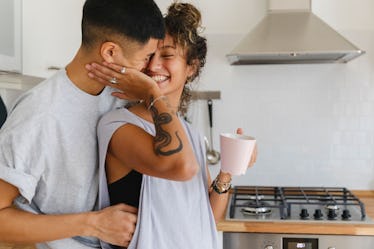 How Long You Should Date Someone Before Leaving Stuff At Their Place, According To 5 People
My crush once texted me about a sweater I forgot at her place. I could picture exactly where I'd left it: hung up on the hook on the back of her bathroom door. Before this text conversation, I hadn't given much thought to the question of when to leave stuff at someone's place. For some reason, her text felt like more than just a reminder about the sweater. The way she had framed her message made me feel like we weren't exactly at the stage of seeing each other where it was chill to leave things behind. Our relationship ended shortly after that, and I was left wondering if the sweater had made a difference.
When you start seeing someone new, you may not be counting down the days until you feel comfortable leaving a toothbrush in their bathroom cabinet. And yet, there is something to be said about understanding when and what is OK to leave at your new partner's place.
It's different for everyone. For some, leaving belongings behind at a crush's place could be a sign of commitment or intimacy, and for others, it may mean very little. There's no one-size-fits-every-relationship solution. So, I asked five people who are either currently in relationships, single, or dating about how they figured out when you're in the clear to leave something at your new bae's place. What's the difference between leaving behind a toothbrush, hair tie, and an outfit of clothes for work? The answer is subjective, but check out what the following folks had to share.