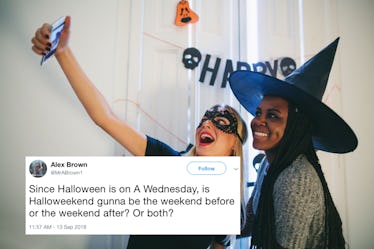 The Twitterverse Has Decided When You Should Celebrate Halloween This Year
In case you're unaware (or haven't looked at a calendar in a while), Halloween falls on a Wednesday this year. That leads me to a very important question: When the heck is "Halloweekend"? Is it the weekend before Halloween, or the weekend after? Usually, Halloweekend is dedicated to the Saturday and Sunday closest to the actual holiday. But since Halloween is taking place on Wednesday, that leaves two weekends up for grabs. So, which is it? Apparently, I'm not the only one wondering when to celebrate Halloween 2018. Twitter has been having multiple discussions about the matter, and they've come to a conclusion that I can get behind.
The general consensus in the Twitterverse is that Halloween should be celebrated during the weekend before and the weekend after Oct. 31. In other words, there will be two Halloweekends this year. Yes, this means you will have to make double the costumes and double the plans, but it's all in good fun. In fact, having two Halloweekends means you'll get to be twice as spooky and have twice the amount of time to binge-watch Hocus Pocus. TBH, this "double Halloweekend" thing is a tradition I can get behind. Can Halloween fall on a Wednesday every year, or nah?
If you count Halloween itself as a day to celebrate, then I guess you'll have three whole celebrations to partake in this year. Of course, it's kind of tough to have fun on a Wednesday night (especially if you have school or work the next morning). But if you can pull it off, more power to you.
As I previously mentioned, a majority of Twitter users have already decided that they're going to spend the weekends before and after Halloween celebrating the spooky holiday.
While I support their decision 100 percent, I also wouldn't be opposed to celebrating Halloween all week long. Would that be called... Halloweek?
Heck, others are willing to celebrate throughout the entire month.
Most people are settling for both weekends surrounding Oct. 31, though.
Other people are having a tough time deciding, so they created Twitter polls to figure out which weekend should be spent celebrating the spooky holiday.
After voting in the polls, I have discovered that "both" weekends is the most popular answer. With that being said, mark your calendars and get ready for an extended Halloween celebration. FYI, Halloweekend #1 will take place on Oct. 27 and Oct. 28, and Halloweekend #2 will occur on Nov. 2 and Nov. 3.
(Yes, that means you'll still be celebrating Halloween in November.)
Now that you have two main Halloween celebrations to plan for, you'll have to think of two different costumes. Thankfully, the internet has already come up with a few popular ones to choose from. If you're hoping to portray a viral meme from 2018 (I'm looking at you, Mason Ramsey), check out these meme Halloween costumes. If you're trying to be a little bit spookier, might I suggest this genius "Ghosted" costume?
Take your time choosing your Halloween getup, because you still have about one month to do your planning. Just remember: If you can't decide which Halloweekend to show off your costume, just choose both.