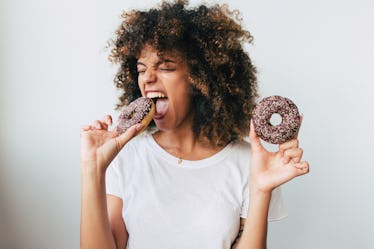 Here's What Your Favorite Food Reveals About Your Personality
My favorite food in the entire world is spaghetti with tomato sauce — no meatballs, but maybe (maybe) a little bit of parmesan cheese. If I were on death row and about to request my last meal on earth, it would be spaghetti, lightly buttered, and some warm tomato sauce on top, or maybe some kind of tomato basil sauce if I'm feeling spicy. This isn't because I crave it all the time; it simply makes me feel like I'm home, and at heart, I'm a total homebody. What your favorite food reveals about your personality is often something like that: a nugget of information that gives someone an idea of what makes you tick.
This isn't to say I don't love other types of food. I eat Thai food easily three times a week, and I crave sushi on a daily basis. But if you were to ask me what I might give future or past me on some random Tuesday afternoon, I would hedge my bets on spaghetti with tomato sauce.
Of course, there's more than one way to look at your personality. You can take a Myers-Briggs test, or look at an in-depth horoscope, or even take a peek at the type of people you surround yourself with. All of these strategies will come together to give you a fragmented picture of yourself — and looking at what you love to eat is just another piece of this personality puzzle.
Here's what your favorite food reveals about your personality and who you are.