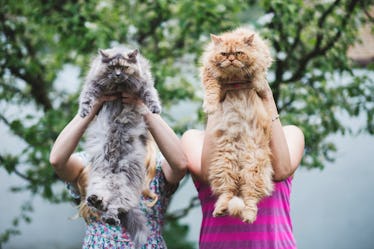 Here's What Your Favorite Cat Breed Reveals About Your Personality
Every once in a while, you might come home from an especially hellish day of trying and failing to accomplish the bare minimum, only to be faced with an empty, silent apartment. Sure, pets might not solve the big problems in your life, but they can definitely help with that lonely, icky feeling of a lingering bad day, and what pet will work to ease your loneliness better and with less maintenance than a cat? Finding out what your favorite cat breed says about your personality will kill two birds with one stone: It allows for some much-needed introspection, and it also clarifies whether or not it's actually a good idea to head down to the shelter next weekend.
This may be surprising to some people that there are so many varied and exquisite breeds of cats, just like dogs, but it's true: There's a style of cat for every person on the planet, from the ridiculously luxurious to the low-key camping lifestyle, which is why it's probably likely that you're projecting some type of fantasy or personal characteristic onto your dream cat.
Whether you're all about the frills, or more into a night spent cuddling in bed, there's no doubt that a miniature purring machine would improve your evening. Here are what five different types of cats might say about your personality, if you love them.