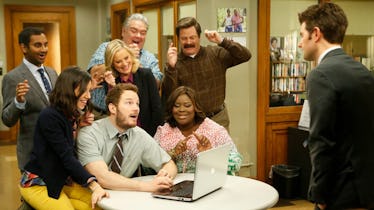 Here's What To Watch On Netflix On New Year's Day When You're Hungover AF
NBC
Like the rest of 2017, the holidays seem to go on forever this year. Between constant fights on Facebook when you try to escape your family, to Chrissy Teigen's flight to nowhere that went on for what seemed like a week, it feels like 2018 will never arrive. But all too soon it will, leaving us with the worst hangover since the 1990s. How should you spend the final day before heading back to the grind? Binging shows you missed out on. Let's look at what to watch on Netflix on New Year's Day instead of putting any resolutions into practice just yet.
Peak TV left quite a few shows in the dust in 2017. With only so many bingewatching hours in a day, and dozens of new shows clamoring for attention, some really great new shows (and some oldies-but-goodies) had to be left by the wayside in order to fit everything in. The New Year's holiday is a great time to lie on the couch, hydrate, snuggle your loved ones and pets, and eat the last of the leftovers before they get tossed. So, catch up on some of the best new stuff you may have missed, or take time out to spend with old favorites.
Let's run down Netflix's best suggestions of what they have to watch while you're nursing that hangover, and to help you forget about the overcrowded inbox that will eat your soul Tuesday morning.
Netflix New Year's Day Hangover Binge List
American Vandal
One of Netflix's shows you might have missed this year. It's a parody of all those shows on TruTV, and perhaps the only series this year to feature one several-hours long d*ck joke.
Dark
A friend of mine called this show "the European version of Stranger Things, dark and depressing instead of Spielberg-ian." They're not wrong.
Dear White People
The TV show version of the original hit indie film. Just do yourself a favor and watch it already.
Friends
They'll always be there for you. And the song will be stuck in your head for the rest of the week to boot.
Lovesick
A British comedy that only lasted one season on Channel 4 (that's the U.K. channel that stole The Great British Bake Off). Netflix came to the rescue and co-produced a second season with them last year. The revival was so popular, they're coming back for thirds. Fun fact: the show's original title was Scrotal Recall.
The Office
If you missed The Office when it was on the first time, now's the time to catch up, since NBC is threatening to reboot it.
Parks and Recreation
The sister show to The Office, NBC's other hit series is perfect because it's from a time when people believed Trump couldn't possibly be president and women could.
One Day at a Time
If you're thinking "Wasn't that a 1970s sitcom?" Yes, it was. This is the 2017 version, inspired by the Norman Lear original. It has all the old school cliches and trappings of 1970s prime time fare, and all the sensibilities of the 21st Century.
Planet Earth I & II
True story: I want to lobby for an David Attenborough channel because I need images of nature and soothing British accents explaining all the places I'll never be able to afford to visit on demand, 24/7/365.
She's Gotta Have It ­
A long time ago, in a time period far, far away, during a epoch known as the "Reagan Era," a Spike Lee joint arrived and rocked the movie world, called She's Gotta Have It. Lee returns to his original story 30 years later and updates it for the 21st Century.