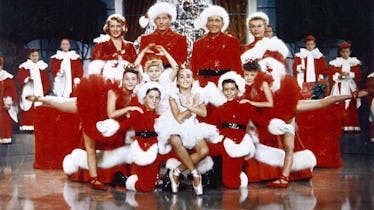 7 Movies To Watch On Netflix On Christmas For Those Warm Family Feels
Paramount Pictures
It's that time of year again when we all head home for the holidays to see the family. With Christmas being on a Monday this year, that means for many of us, we get a three- or four-day weekend stuck sleeping in our old bedroom, or worse — the guest room our old bedroom mysteriously turned into sometime around junior year of college. How do we cope when the old routines start snapping back into place and the family start snapping at each others heads? How about Netflix? But what movies are on Netflix this Christmas to stream for the whole family? Is there anything Christmas-themed, or will you have to settle for convincing Grandma she'll really enjoy Stranger Things?
Lucky for everyone, there's quite a bit of Christmas-themed stuff on Netflix's streaming service to watch this time of year. Some of it is definitely aimed towards the younger set, like all those Disney Christmas special cartoons or the movies like Santa Paws, starring a bunch of talking dogs.
But for those looking for quality family fare, there are also lots of choices from the really old school classics to the more modern holiday romance, and even for those looking for bad taste laughs during the holidays.
Check out our list below:
1. White Christmas
Yes, *the* White Christmas, the one with the classic carol of the same name. This 1954 classic is one that everyone in the family can enjoy, and a great way to get to know Bing Crosby and George Clooney's Aunt Rosemary.
Here's the synopsis:
Singers Bob Wallace (Bing Crosby) and Phil Davis (Danny Kaye) join sister act Betty (Rosemary Clooney) and Judy Haynes (Vera-Ellen) to perform a Christmas show in rural Vermont. There, they run into Gen. Waverly (Dean Jagger), the boys' commander in World War II, who, they learn, is having financial difficulties; his quaint country inn is failing. So what's the foursome to do but plan a yuletide miracle: a fun-filled musical extravaganza that's sure to put Waverly and his business in the black!
2. The Christmas Candle
This one's for the PBS costume drama crowd. Originally released in 2013, this British film starring Hans Matheson, Samantha Barks, and Sylvester McCoy is based on the novel of the same name.
Check out the synopsis:
In 19th-century England, a minister's quest to modernize his village puts him at odds with people who believe that whoever lights the candle that an angel touched will receive a miracle on Christmas Eve.
3. A Holiday Engagement
Your classic rom com from 2011, this genuine Hallmark movie stars Bonnie Somerville, Shelley Long, and Jordan Bridges.
Here's the synopsis:
Afraid to tell her family she's been dumped, Hillary hires an actor to play her fiancé during a 4-day Thanksgiving weekend at her parents' house.
4. A Christmas Prince
Netflix's own take on the holiday romance, this in-house production is new for this year, starring Rose McIver and Ben Lamb.
Here's the synopsis:
Christmas comes early for an aspiring young journalist when she's sent abroad to get the scoop on a dashing prince who's poised to be king.
5. Christmas In The City
Our Lifetime movie entry from 2013, Christmas in the City is an updated version of Miracle on 34th Street, starring Ashley Williams, Jon Prescott, and Ashanti.
Check out the synopsis:
After closing down her small-town family business, Wendy and her six-year-old daughter Grace move to the big city where an old friend offers her a job in the toy department of Wolmans. But her excitement is short lived when the store's new consultant, Teanna, ruins the holiday spirit throughout the store by replacing Santa with a hunky male underwear model. It's only when Grace begins to lose faith in the holiday that Wendy realizes she must bring the true meaning of Christmas back to Wolmans before it is too late.
6. Bad Santa (& Bad Santa 2)
For the family that needs to give grandma a laugh even while she might be blushing, Bad Santa (and the sequel), starring Billy Bob Thornton, Tony Cox, and Lauren Graham are both streaming on Netflix this year.
Here's the synopsis:
In this dark comedy, the crotchety Willie T. Stokes (Billy Bob Thornton) and his partner (Tony Cox) reunite once a year for a holiday con. Posing as a mall Santa and his elf, they rip off shopping outlets on Christmas Eve. This year, however, Willie is falling apart. He's depressed and alcoholic, and his erratic behavior draws the suspicion of mall security (Bernie Mac). But when befriending a small boy brings out his kinder side, Willie begins to wonder if there is still some hope for him.
7. The Nightmare Before Christmas
THE Christmas classic in our house, from Tim Burton. If you haven't watched it, stop what you're doing and remedy that. Right. Now. You can thank me later.
Here's the synopsis:
The film follows the misadventures of Jack Skellington, Halloweentown's beloved pumpkin king, who has become bored with the same annual routine of frightening people in the "real world." When Jack accidentally stumbles on Christmastown, all bright colors and warm spirits, he gets a new lease on life -- he plots to bring Christmas under his control by kidnapping Santa Claus and taking over the role. But Jack soon discovers even the best-laid plans of mice and skeleton men can go seriously awry.