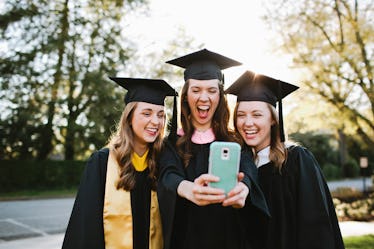 Here's What To Say To College Friends You Won't See After Graduation
I've got a tricky habit of jumping from city to city and town to town. Growing up, my family and I had moved back and forth across the Atlantic five times before my ninth birthday, and I've called five different cities home over the last five years. Each time I've left a city, it's been marked with teary-eyed goodbyes — and I can personally attest to the fact that some of the trickiest farewells are to the college friends you won't see after graduation.
So, what's my secret to making those goodbyes a little easier to say? It's simple: You don't say goodbye at all.
Hug your hugs, cry your tears, and tell the people you love that you love them. That you'll miss seeing them every day, or sitting in your dorm's kitchen chugging rosé and learning the choreography to Beyoncé's "Countdown" video. But definitely don't treat them like they're vanishing into thin air and out of your life — because, take it from me, that doesn't have to be the case.
Instead, leave them with some parting words of affirmation (or gifts! Who doesn't love gifts?!), an open invitation to visit you in your new city, and a plan to see each other in the future. Here's a deeper look at three way better ways to say goodbye to your college BFFs than, well, actually saying goodbye.