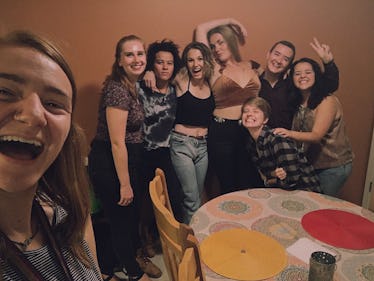 My Best Friends Are All Moving To Different Places After Graduation & I'm Freaking Out
Samantha Stokes is a graduating senior at the University of Missouri, majoring in Print/Digital News and Magazine Writing. After graduation, her dreams are a little up in the air, which makes them all the more exciting.
In less than one month, I'll graduate from college, pack up all my things, and head home. My friends will all do the same — except home for them isn't the same place as home for me. Sure, we're used to spending summers apart, but this time is different because, when fall rolls around, I'll move to New York City for graduate school and my best friends will either be job hunting on the West Coast or gearing up for another year as undergraduates. This goodbye feels more permanent. This goodbye feels, in many ways, like the last one.
I've spent my final year in school experiencing a lot of lasts: moving into my last college apartment, attending my last homecoming game, taking my last spring break trip — and, through it all, my friends have been by my side. Now, with commencement looming, I'm forced to come to terms with the fact that I might never live near my best friends again. It's a scary reality to face, which has made the last few months even more bittersweet.
When I first came to college as an out-of-state student, I didn't build very many strong friendships. I was shy and from a small town, so it was difficult for me to meet new people. I constantly felt uncomfortable around my peers, and that feeling didn't change even as I spent more time in my dorm or joined an on-campus club. In fact, I felt this way until about halfway through college.
But when I finally met Kati, Martha and the other women who would eventually become my closest friends, the connection was instant. I was welcomed, open-armed, into friendships that didn't make me feel awkward in my own skin. Instead, I felt truly valued for my individual experiences, emotions, and perspectives. This was the first time I felt truly comfortable around anyone in college. I finally had friends I could go on Starbucks dates with, share wine with on quiet nights, or whisper to during a boring class. It felt like I could actually relax and be myself.
I didn't even realize how much I was missing that feeling until I had it. Meeting my college friends was the first time I experienced the emotional support that only comes from a cohort of strong, wonderful women. Their love was immediate and unconditional: whether boosting my confidence as I waited to find out if I got into graduate school, supporting me through my conflicts with problematic men, or providing a dose of humor to a stressful study session. It's an exceptional feeling, knowing that my friends always have my back.
But as we move through our senior year, and the days, weeks and months pass, my friends and I have come to realize that our dream jobs and life goals will take us to very different corners of the country, and perhaps the world. My best friend Kati, a fellow journalism major, is looking for jobs in Washington D.C., Sacramento, and Portland, as well as opportunities abroad. Another best friend, Martha, has another year in college in the Midwest before she starts looking around the country for a graduate school to pursue music performance.
And then there's me, who'll be moving to New York in just a few months to pursue my master's degree in journalism. While I've always known I wanted to move to New York after graduation, it's painfully clear that this dream isn't shared by any of my close friends. To make matters worse, being a graduate student means I won't have the funds to travel to my friends' new cities for frequent visits. In some ways, following my professional aspirations feels like I'm giving up some of my most cherished friendships. And that's not a nice feeling at all.
I'll miss living right across the street from my best friends and all that it entails — walking to class together in the mornings and meeting up at the campus gym for yoga class. I'll miss weekly grocery shopping, cooking dinner together, and homework sessions that turn into full nights spent in the living room, talking about our futures. We spend so much time together, I can't imagine it otherwise. This spring break, my best friend and I took a road trip across the country, and if 3,000 miles in a car didn't make us sick of each other, I don't even think it's possible. If anything, it made me realize just how much more time I wanted with my friends. It's hard to believe it will all come to an end in just a few short weeks.
The idea of leaving the comfort of college reminds me of the initial anxiety I experienced when I arrived. It was hard for me to come to college without knowing anyone and even harder to spend a few years in school without feeling secure or confident with any of my acquaintances. I don't want to feel that again: Finding a strong group of friends remains one of my most important personal accomplishments; it's made me more confident in and happy with myself. But in a few months, I'll have to start all over again with new people, in a new school, in a new city. To be honest, I'm terrified.
It's in these moments that I force myself to realize that I've done it once already and I can do it again. The strength of these friendships gives me hope not only that they'll survive, but that I can someday find strong bonds with new people. My friends taught me it's never too late in your college career to create new friendships or to take an existing relationship from close-ish to bestie status. We've spent the last couple of years making each other better people and improving one another's confidence. I'm hopeful that someday soon, I might be able to share that with another group of strong and awesome women.
I also know that the end of my time in college doesn't mean the end of my college friendships. Living right around the corner from my best friends has been amazing, but the number of steps to one another's apartments or the amount of times we hang out each week isn't the only metric by which to judge a friendship. I'll really miss the time I spend with my friends, but knowing it will soon come to an end has inspired me not to take even the most mundane walks to class or study sessions for granted.
My friends and I have also already taken steps to ensure we stay strong as the miles between us increase drastically. We already have a healthy tradition of meme-sharing, phone calls, group texts, shared photo albums, and FaceTime dates. Social media has made it easier than ever to stay in touch with people, and we plan on taking full advantage of that.
Still, even though I know graduation won't really mark the end, I plan on making the most of having my friends close by for what time we have left. It's going to be hard to say goodbye in less than a month, and it's also going to be hard to start over again in the fall. But I've been so lucky to experience such great friendships in college, and I don't believe for a second they're going to end. It won't be easy, but we will make it work because, at the crux of it, your best friends are your best friends no matter the distance. And a close relationship isn't defined by close proximity.