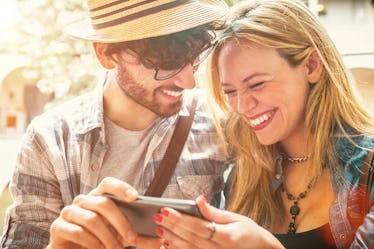 The Relationship Red Flag That You Shouldn't Ignore, According To Your Sign
I wish first dates were a little more like the first day of school — when you would throw on your best outfit, slap on a confident smile, and perhaps most importantly, were given a handbook that outlines exactly what you were about to get into. But unlike forbidden school regulations, relationship red flags aren't spelled out in big, bold letters: They remain hidden between the lines, left for each individual to decipher.
Red flags can come in many forms. Sometimes, the dissonance is behavioral: Perhaps you're a total neat freak, but the person you're dating takes no issue with leaving dirty dishes in the sink for days at a time. Or maybe, it's rooted in a deeper discord: mismatched personalities that just don't compliment each other. For example, I'm overly emotional — anything from a man walking down the street with a bouquet to a dramatic television sequence can send me into a flurry of tears. I don't need the full picture or story; my mind always fills in the blanks in the most romantic way possible. So, one of my major red flags has always been when a potential partner grows visibly uncomfortable around displays of emotion. It's a surefire sign that things most likely won't work out.
"All of us has the potential to attract the wrong person," Astrologer Linda Furiate tells Elite Daily. "Although our Sun sign speaks volumes about our personality, it is the planet Venus in our chart and what sign on our seventh house cusp that may allow us to attract our fair share of red flag relationships."
Here's the relationship red flag each sign should always look out for — so next time you're on a date, you don't get blindsided.