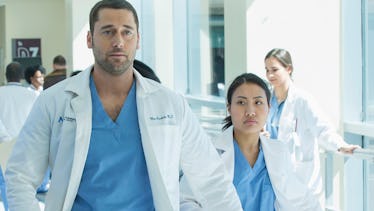 5 New Shows This Fall That Drama Fans Will Want To Put On Their Calendar ASAP
NBC
Yep — it still feels like 1000 degrees around most of the U.S. right now and I'm planning on eating ice cream for lunch. Summer is in full sweltering swing, but before you know it, the leaves will be falling off the trees and the networks will be introducing their fresh slate of freshman programming. If you're a fan of dramas that involve action, life-saving, families, or just anything that might make you cry, there's plenty of new shows this fall to sample.
It's not easy to add a new series into the mix considering television is pretty packed right now, but you never know what will strike your fancy. Picture this: Autumn of 2016. This Is Us was about to premiere and I was all, "eh, maybe I'll give it a shot." Well, thankfully I decided to not watch an old episode of The Office that night and the NBC fave has since become one of the biggest and most critically acclaimed shows around. The lesson is that new shows deserve our attention. As a loyal viewer of the small screen, I vow to give these 5 new dramas a chance. Mark your calendars!
1. New Amsterdam (NBC)
Ryan Eggold of Blacklist fame stars in this medical series about a groundbreaking medical director at New York's oldest hospital looking to challenge the concept of care and "change the system." It's hard to resist a doctor drama where brilliant physicians are taking risks. I mean, Grey's Anatomy has been airing for 14 seasons.
New Amsterdam premieres Tuesday, September 25 on NBC.
2. The Rookie (ABC)
Nathan Fillion, is that you? The Castle alum returns to television in a more serious role — a 40-year-old recently divorced guy who finds himself in over his head in L.A. as he follows his dream of becoming a policeman. Fillion's known for deadpan goofy charm, but it already looks like's got the determined cop (with a side of goofy charm) thing down. I'll bite.
The Rookie premieres Tuesday, October 16 on ABC.
3. A Million Little Things (ABC)
Get ready for a tearjerker slice-of-life ensemble drama that will probably straddle the genre line. A Million Little Things follows a group of Boston friends who are brought together after an unexpected death. The trailer makes it look incredibly sad, but it also hints that secrets will begin unraveling following the tragedy.
A Million Little Things premieres Wednesday, September 26 on ABC.
4. Magnum P.I. (CBS)
Let the reboot craze continue. This time Jay Hernandez (Crazy/Beautiful, Bad Moms) steps into the unforgettable Hawaii private investigator role that Tom Selleck originated back in 1980. This time around, he's got a different take on that iconic facial hair.
Magnum P.I. premieres Monday, September 24 on CBS.
5. Charmed (The CW)
Speaking of reboots... The bewitching fantasy drama returns with a new set of sisters possessing the Power of Three.
"There were so many things that work, and still work, so they were really smart about using the mythology, like the Book of Shadows and the Power of Three. When you watch the pilot, it feels really familiar," star Melonie Diaz teased of the update's connections to the beloved original.
Charmed premieres Sunday, October 14 on The CW.