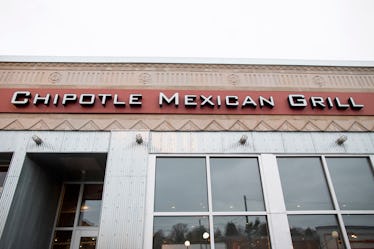 Chipotle Is Giving Away A Year Of Free Burritos If You Enter This Spooky Contest
Scott Eisen/Getty Images News/Getty Images
Halloween 2018 is just around the corner, and there's no better way to start your celebrations than Chipotle's foil-themed costume contest that will score you free Chipotle burritos for a year. That's right, if the $4 Halloween Boorito deal wasn't already exciting enough for you, try your hand at their costume competition. The objective? Fashion a costume out of foil, submit your photo on Instagram, and tag @Chipotle for your chance to win free food for a year. It's that easy.
The contest is open anyone 13 years or older living in the United States and the District of Columbia who can "produce an appropriate photograph depicting Participant at a current Chipotle Mexican Grill restaurant location," according to the official rules. Submissions should be tagged on an Instagram post or story starting at 3 p.m. ET on Halloween day and no later than 1 a.m. ET on Nov. 1, 2018.
Next, a team will pick eight finalists with the most creative, innovative, and original costumes will be featured on the official Chipotle Instagram story. From there, people will vote on a finalist — if you're one of the lucky eight, make sure to tell all your friends to go vote because there can only be one final winner! Chipotle will announce the fate of one lucky winner around 6 p.m. ET on the same day as voting, and they will be Chipotle royalty for the year to come.
According to the website, the grand prize will consist of 52 free burrito cards (with up to $10 on each card), which can be picked up at any participating Chipotle. That's $520 worth of burrito goodness, so start working on your foil costumes now!
Since Halloween is still over a week away, it may be worth catching up on some other important Chipotle happenings. In important delivery news, Postmates is giving new customers in over 100 cities $4 off their Chipotle order, but only through Monday, Oct. 21! If you were looking for a sign to stay in and cozy up with a burrito this weekend, this may be it. The company also announced the launch of scratch-and-sniff stickers earlier this month to celebrate over 100 million views of its digital GIPHY stickers. Though the stickers sold out incredibly quickly, the website promises to have them available again as soon as their artisans finish up the next batch, so if "Would Rather Be At Chipotle," "Less Talk More Guac," and "Salsa Flame" are sentiments that resonate with you, keep an eye on the Chipotle store website to make sure you're the first to purchase when they restock.
With great food, regular developments to their menu and services, and a love for the Halloween spirit, there's really no reason not to enter Chipotle's costume contest for a chance to win a year's worth of free burritos, valued at $520. Not feeling creative this year? Convince a friend to enter. If they win, tag along for some of that free Tex-Mex goodness – they earned it for winning and you earned it for telling them about it!