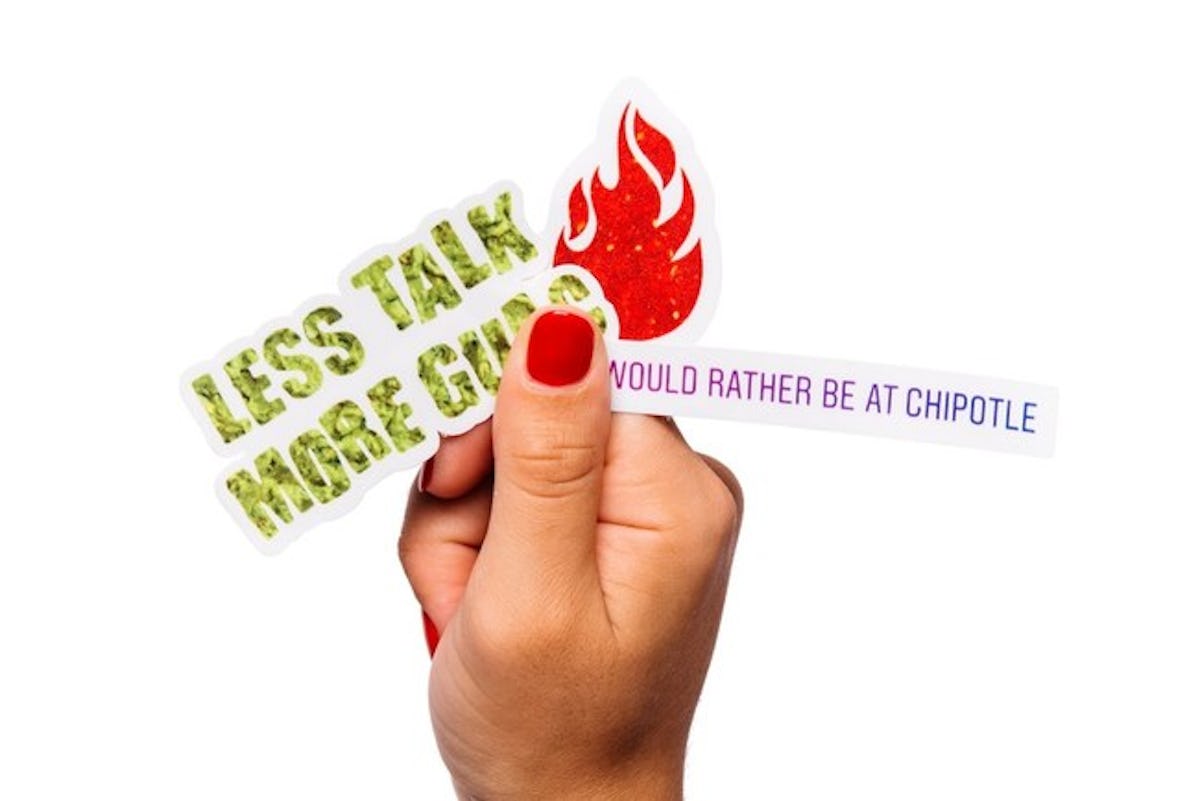 Chipotle Just Dropped Scratch-And-Sniff Stickers That Smell Just Like Your Go-To Order
I don't know about you, but more often than not, I have Chipotle on my mind. Whenever hunger strikes, I can't help but think about the tantalizing prospect of ordering a burrito, some chips, and maybe an XL side of guac. But sometimes, amidst these Chipotle-laden fantasies, I'm not even hungry — I just miss that gorgeous Chipotle fragrance wafting through my nasal passages. And if you, too, constantly crave that unshakeable burrito smell, here's how to get Chipotle's scratch-and-sniff stickers — that delightful scent will totally stick with you, even past dinnertime.
On Oct. 10, Chipotle celebrated something major: over 100 million views of its digital GIPHY stickers. So, as you would probably imagine, the Tex Mex chain is celebrating like no other, by offering customers the greatest gift of all: scratch-and-sniff stickers. Yes, you heard that correctly, and according to the press release, you can snag three delectable options: "Would Rather Be At Chipotle," "Less Talk More Guac," and "Salsa Flame." Each feature the tantalizing scent of smoky adobo, roasted cumin, and flaming chili. You can buy the three pack of stickers for a mere $3 on Chipotle's website, and if you ask me, they're worth every penny.
Tressie Lieberman, Chipotle's Vice President of Digital Marketing, said in a press release that fans love Chipotle's GIPHY stickers, so why not bring them to life?
In the press release, Lieberman said,
We've seen tremendous enthusiasm for the Chipotle Giphy stickers since they launched on Snapchat and Instagram, and love that these give people the freedom to express themselves in creative ways on social media. As we continue to push the bounds on digital and social innovations, we're also seeing a demand to bring many of these digital experiences into 'real-life,' which is why we wanted to create these fun, real-life scratch and sniff stickers for our fans.
You most likely recall way back when Chipotle's GIPHY stickers first launched back in June 2018, and I don't know about you, but it completely revolutionized the way I 'grammed. According to the press release, each sticker was carefully designed by artist and Instagram star Pablo Rochat, and thankfully, the company plans to continue making GIPHY stickers, to further promote all of their new menu items. Most recently, for example, they launched National Guacamole Day-themed stickers, to celebrate the launch of its new eight-ounce guacamole side, and it was a guac-tastic success. I mean, personally, I was all about it.
Hopefully, if Chipotle's Applewood Smoked Bacon makes it past the test kitchen, they'll start selling stickers that smell just like it. To fill you in, Chipotle's NYC NEXT kitchen tested out bacon as a protein additive for quesadillas, and after gaining immense popularity back in September 2018, it went through testing as a protein option at eight Chipotle locations throughout Orange County, California. I haven't yet heard if it'll be more widely offered, but my fingers and toes are crossed.
Chipotle already smells like a dream come true, and now you can smell like it all the time. The only downside of these scented stickers is that they'll definitely make me perpetually hungry, but I guess that means I'll just have to order even more burritos. Darn.