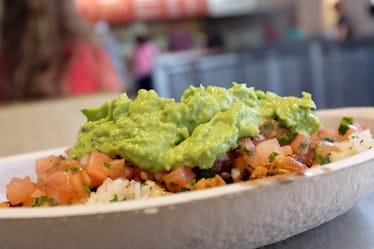 Chipotle Just Dropped A New Large Size Of Guac In Time For National Guacamole Day
Joe Raedle/Getty Images News/Getty Images
There are a ton of foods out there that hold their own national holidays, but one that's near and dear to my heart is National Guacamole Day. The one day of the year to celebrate the beloved mashed avocado dip is coming up on Sunday, Sept. 16, and I can promise you that I'll be celebrating like no other. So, if you are looking to get in on the spicy avocado-y fun, Chipotle's new 8-ounce guacamole size is finally here in time for National Guacamole Day, and it's seriously about to guac my world.
In life, one of my vices is Chipotle Mexican Grill. Seriously, ask any of my friends or family — I'm basically a regular at my local Brooklyn location. And while I was totally and utterly enamored with the chain's 4-ounce guacamole side, the highly-regarded Tex Mex chain is now offering customers the glorious option to buy a large 8-ounce size guacamole at participating restaurants, as of a Sept. 14 press release. You can order them with a large portion of chips to add to your burrito bowl, or heck, you can even get to save for your morning toast. Trust me when I say that you can never go wrong with just a little (or a lot) more guacamole.
In a press release, Chris Brandt, the Chief Marketing Officer at Chipotle, said that chain's guac is valued highly by fans nationwide. So, the chain is pretty excited to start offering it in larger quantities than ever before. TBH, I'm pretty excited about it too — it's basically all I've avo wanted (get it guys?).
In the press release, Brandt said:
Guac has long been one of Chipotle's most beloved items. In fact, customers order nearly 50 million pounds of guacamole from our restaurants per year, and we use more than 450,000 avocados in our restaurants every single day. Many of our customers can't get enough of our guac, and we're thrilled to give people even more options to get their guac fix.
Holy guacamole, it looks like Chipotle's National Guacamole Day celebrations don't stop at larger guac portions. Since recording your guac holiday experience on social media is practically vital, the burrito-lovin' chain is thankfully rolling out an expanded GIPHY sticker set on Instagram on Saturday, Sept. 15. On Sunday, Sept. 16, they'll also be releasing festive Snapchat filters, as well as guacamole-themed stickers. Call me guac-ward (LOL), but I've already mapped out my Guacamole Day social media posts.
After you've snagged a whopping eight ounces of guacamole, make sure you head over to Wholly Guacamole's website on Sunday, Sept. 16, to get yourself a coupon for free guac. Yes, you read that correctly — you can get up to $5.99 worth of free guacamole products, so I highly recommend doing so while you can — this is an extremely rare opportunity.
I don't know about you, but I'm already planning my National Guacamole Day pilgrimage to the one and only Chipotle Mexican Grill. Not only will I be eating pounds and pounds of guac, but I'll also be Instagramming and Snapchatting my avo-lovin' little heart out. So get excited for National Guacamole Day, and most importantly, guac on (OK seriously guys, I'm done with the puns, I promise).