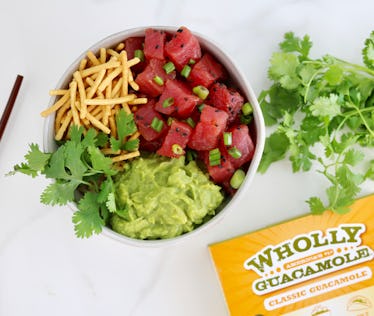 You Can Get Free Guac For National Guacamole Day & Yes, 'Queer Eye's Antoni Is Involved
Wholly Guacamole
Maybe you had a hard day at work, or there's a chance that the weight of the world is gradually weighing down on your shoulders. Regardless, there are really only two solutions for either of these problems: a ton of guacamole, and, of course, Netflix's original series, Queer Eye. Lucky for you, though, guac giant Wholly Guacamole is offering free guac, as well as recipes from Queer Eye's Antoni Porowski. In the words of Johnathan Van Ness, "can you believe?"
In honor of National Guacamole Day on Sunday, Sept. 16, Wholly Guacamole is giving fans everything they could ever want: free guac. According to the press release, this glorious giveaway will only be available to U.S. residents, while supplies lasts. To claim some for yourself, you'll go online to eatwholly.com and snag your coupon, according to Wholly Guacamole. It'll will be sent to you in the mail, and it's good for any Wholly Guacamole product up to $5.99. Needless to say, I'm definitely going to need to get my hands on some of this, because everything definitely tastes better when it's free.
In a press release, Diana Pusiri, the senior brand manager of Wholly Guacamole, said they want to honor its loyal, avo-lovin' customers on this glorious holiday, by awarding them with something they all love: free guacamole.
In the press release, Pursiri said:
We're spreading real guac goodness and showing appreciation for our fans by giving them free guacamole on this national holiday. With the continued growth for consumption and people's passion for guacamole, we thought there is no better day than National Guacamole Day to share our delicious guac made with real, simple ingredients like hand-scooped Hass avocados—and no added preservatives.
Also in honor of the special day, per the release, Wholly Guacamole partnered with Antoni Porowski, Queer Eye's head chef, to come up with some awesome cooking hacks using the pre-packaged dip. In case you don't watch the show (and you totally should), Porowski specializes in making quick, healthy food, and he has an undying love for avo. So, if you think about it, who would be a better guac consultant than him?
For the first recipe, Porowski came out with a light and tasty appetizer. Per the release, just add a dollop of Wholly Guacamole to cubed raw tuna, raw salmon, or smoked salmon. Then, add sesame oil, sesame seeds, and either crushed crispy wontons or tortilla chips for some hella tasty poké vibes. So freakin' good.
Next, per the release, the chef advises fans to add cubed mango or pineapple, as well as fresh cilantro, and a handful of rinsed black beans to Wholly Guacamole Spicy. This creates a spicy-yet-sweet snack, perfect for any and all Queer Eye marathons.
Finally, according to the press release, Porowski recommends cubing leftover chicken breast or pulled rotisserie chicken, and tossing it with Wholly Guacamole, as well as jicama, fresh cilantro, and lime juice. You can choose to eat in a wrap, over rice, quinoa, or even baby kale. It's basically the ideal work lunch, if you ask me.
In the press release, Porowski said that each of these recipes are fun, easy, and most importantly, hassle-free. Although he's always down to make his own guac, using the pre-packaged variety is fantastic if you're in a time crunch.
In the press release, Porowski said:
Many people now know of my love for guac, and being a foodie, I'm known to make my own guacamole from scratch. However, no one loves the hassle that comes with it… like waiting for avocados to ripen, or prepping and mashing all the ingredients.
Nothing beats guacamole and a little Queer Eye, and thankfully, Wholly Guacamole is giving fans a taste of each. I'm definitely claiming my guac coupon on Sunday, Sept. 16, and if you don't think my meal prep is going to completely revolve around Porowski's recipes, you definitely thought wrong.