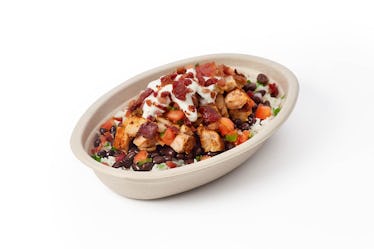 Chipotle Is Testing One Of Your Favorite Foods On Select Menus, So Get Excited
Chipotle
I think everyone can agree that there are very few things in life that can surpass the natural beauty that is bacon. When you think about it, bacon can be seamlessly added to practically anything, and most importantly, it's saltier than my soul. Despite bacon's ubiquity, though, I haven't been able to find it at my favorite spot for tacos and burritos, Chipotle. Thankfully the restaurant chain seems to have noticed the hole in its menu. Yep, Chipotle is testing out bacon on its menu in certain markets right now, and I'm so pumped.
If you're big on the pig, listen up, because this one in going out to all of my fellow bacon lovers out there. According to a press release, Chipotle's NYC NEXT kitchen has recently been testing out Applewood Smoked Bacon, and its been getting loads of positive responses. Right now, it's only being sold there in the form of an addition to quesadillas, but due to its popularity, it's going to be tested as a protein option at eight different Chipotle restaurants throughout Orange County, California during the month of September. Ideally — assuming the test goes swimmingly — Chipotle's Applewood Smoked Bacon will then officially be considered for a full market test. Yes, you heard that correctly: Bacon at Chipotle could really be a thing soon.
Chris Brandt, the Chief Marketing Officer at Chipotle, said in a press release that bacon is the key to the hearts of so many people. And, the best part is that it can be added to practically anything.
In the release, Brandt said:
Consumers have always said 'everything tastes better with bacon' and that is exactly what we confirmed in our New York test kitchen. We found consumers added bacon to their traditional bowls, burritos, tacos and nachos while also enjoying new items such as the BLT quesadilla with bacon, lettuce, tomato and cheese grilled to perfection.
The restaurant chain known for its burritos and tacos has also been testing out build-your-own nachos, according to the press release. Yes, it's true, and you'd better believe it was a hit. In fact, the nachos received so much of positive feedback after undergoing tests in 10 different restaurants that it's now expanding to full-market tests in Denver, as well as in Minneapolis-St. Paul this coming October (!!!).
Chipotle's nachos have been at the forefront of customer requests, and a single serving includes homemade corn tortilla chips, which are topped with creamy queso, as well as a choice of meat, beans, lettuce, and most importantly, lot and lots of salsa. The mere thought of it is making me drool, to be quite honest, and you'd better believe I'll be loading those irresistible pickled jalapeños on top.
It's a well-known fact that adding bacon to anything makes it infinitely better, and when it comes to something as already-perfect as Chipotle, there's truly nothing better. Between the potential of adding bacon on (and in) everything, as well as build-your-own nachos, deciding on a meal at Chipotle might just exponentially harder, so you'd better believe I'll be ordering one of everything the next time I go.