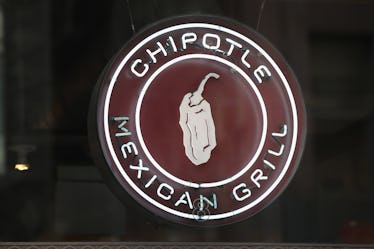 You Can Get $4 Off Your Chipotle Order By Using Postmates In These Cities
Scott Olson/Getty Images News/Getty Images
If you've ever used Postmates, you probably know how convenient it is. With the press of a button (or two), you can have your favorite meals and necessities delivered straight to your doorstep. If you haven't had access to the on-demand service in the past, don't fret. The company recently expanded to over one hundred U.S. cities — and those new customers can take advantage of an irresistible discount. Believe it or not, Postmates is offering $4 off Chipotle orders to everyone living in the towns that were finally added to its impressive roster. If your area is now included, you can get a discounted burrito bowl without leaving your couch.
I know what you're probably thinking: A deal this delicious must have a catch, right? Surprisingly, there isn't one. Postmates just wants to celebrate its expansion by giving new cities the opportunity to order discounted Chipotle. That's literally it. The company has a great reason to celebrate, though — because it added a whopping 134 new cities to its repertoire. On Tuesday, Oct. 16, Postmates announced the expansion and revealed that it now serves a total of 550 U.S. cities. That means 60 percent of U.S. households can now order Postmates, according to a press release. That's a huge deal, guys.
Why did Postmates decide to give its customers a discount on Chipotle orders, specifically? (Why am I even questioning this?) The answer is quite simple. Thanks to its recent expansion, 300 Chipotle locations were added to Postmates — and that's definitely something to recognize. In honor of the newly added locations, Postmates is offering a code that'll take $4 off Chipotle orders in newly added cities, and the offer is good from Oct. 17 through Oct. 21, per Postmates. In order to find out which cities were added, check out the map by clicking here. (I'd write them out for you, but I doubt you want to read through a list of 134 U.S. locations.)
If your city was recently added to Postmates, get ready for a discounted meal. In order to take advantage of the delicious deal, download Postmates and find the Chipotle that's closest to you. After you've decided what you're going to order (hello, burrito bowl), enter the code CHIPOTLE134. That'll get you $4 off your order, which means you can enjoy a delectable meal on the cheap. Oh, and those new cities will enjoy free delivery on Postmates orders through the end of October, according to Postmates. Once you're done eating, you can celebrate the fact that you finally have access to Postmates (and on-demand Chipotle, of course).
If you're new to Postmates, there are a few things you should keep in mind. You can order from your phone or your desktop, because it's available on iOS, Android, or on Postmates.com. Whether you're working from your laptop or texting your friends, you'll have easy access to the service. You should also keep in mind that delivery fees start at $3.99 — but there's no reason to panic. You can avoid delivery fees altogether by subscribing to Unlimited, Postmates' subscription service. According to a press release, that'll either cost $7.99 or $9.99 a month if you pay for it annually.
If you're going to be ordering Chipotle on the reg, I'd highly suggest doing that.